Video poker is definitely one of the most underrated game in any online casino. Its' sketchy graphics and the fact that the games are often well hidden compared to others, such as slots, roulette, and blackjack, means that it isn't all that fashionable.
But video poker is one of the most player-friendly of any casino game. The Return To Player (RTP) rates well over 99% for a lot of variants meaning that it has a really low house edge and, after all, the lower the house edge the better it is for the player.
Video poker works a lot like blackjack. There are optimal strategies that you can apply to each hand that will win you the most money long term. For example, if you have two paired cards and two cards to the flush in Jacks or Better, then it's best to keep the low pair and draw the rest instead of keeping the suited cards to try and make the flush, as it pays more. It's knowledge like this that is mathematically proven to give the player the best chances.
Throughout this article, we are going to offer you some general advice that you can apply to most video poker formats. Remember, there are lots of variations of the game, so you need to be aware of what will work for each variation. What works for one, might not another and vice-versa.
Always Play for Maximum Stake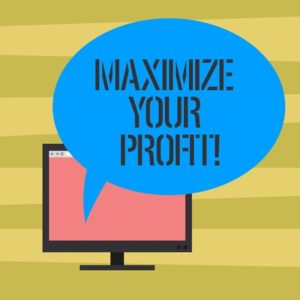 Let's start with the number of coins that you are playing for in each game. This is basically how much it's going to cost you to play each round. Bear in mind that games often charge per coin.
It might be a 5-coin game that starts at £5 per coin. So, if you played for the full 5 coins then you would be playing for £25 per go.
The reason that we play for the full number of coins is that the payouts for the jackpot in most games is going to massively differ.
Jacks or Better is a good example of this and offers a huge jackpot when you play for full coins – even 1 coin less has a massive impact.
| | | | | | |
| --- | --- | --- | --- | --- | --- |
| Hand | 1 coin | 2 coins | 3 coins | 4 coins | 5 coins |
| Royal Flush | 250 | 500 | 750 | 1000 | 4000 |
| Straight Flush | 50 | 100 | 300 | 400 | 500 |
| 4 of a Kind | 25 | 50 | 75 | 100 | 125 |
| Full House | 9 | 18 | 27 | 36 | 45 |
| Flush | 6 | 12 | 18 | 24 | 30 |
| Straight | 4 | 8 | 12 | 16 | 20 |
| 3 of a Kind | 3 | 6 | 9 | 12 | 15 |
| 2 Pair | 2 | 4 | 6 | 8 | 10 |
| Jacks or Better | 1 | 2 | 3 | 4 | 5 |
The two key areas of interest from the board are the Royal Flush and the Straight Flush. With a Royal Flush we see that it works on a ratio of 1:250 right up to 4 coins for 1000. However, when we jump to 5 coins we then get to a ratio of 1:800, paying out 4000 for 5 coins – a huge increase. You would be kicking yourself if you hit a Royal Flush and were playing for anything but top money.
We also see another jump with a Straight Flush. We start with a 1:50 ratio for both 1 coin and 2 coins, but then for 3, 4 and 5 coins we jump to a 1:100 ratio. Obviously, the highest ratio for this hand starts a little lower, but the same principle applies.
Game Selection and House Edge
There are multiple variations of video poker. Repeat, there are multiple variations of video poker.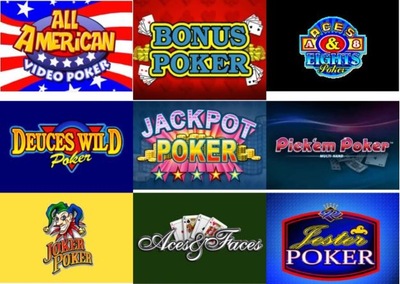 One of the biggest misconceptions about video poker is that all games work the same. They all look very similar I grant you, and they even have similar payouts, but there are plenty of different games that you can choose from. We've written an article on this already highlight just how many there are.
Another thing that people overlook is that different casinos will offer different versions of the same game. If they are different, then how are they the same game, we hear you asking?
Well, they differ in the payouts that are on offer and the returns you can get as a player. We're going to stick with Jacks or Better for this example, but it applies to pretty much all other video poker games as well, so bear this in mind.
There are two key payouts for most video poker games as these come in the form of a Full House and a Flush. They are hands that are relatively easy to make and pay pretty well.
As basic payout is often 9/6. This means that you get 9 coins for a Full House and 6 coins for a Flush. These numbers can change, and you can find odds of 9/5 or even 8/6 from some casinos. The changes seem small, but they actually have a big effect on how the game works.
We've already spoken about RTP and we are looking for as close to 100% as possible (sometimes you can even get higher, although rare). Here is how the RTP can change as the payouts are altered:
9/6 = 99.54%
9/5 = 98.45%
8/6 = 98.39%
9/5 = 97.30%
7/5 = 96.15%
6/5 = 95.00%
As you can see, it offers a much bigger edge to the casino when they offer even slightly lower odds for either a Flush or a Full House. It's a bit like backing the same horse as someone else but taking worse odds for it.
The good thing about these games is that there are plenty to choose from, so this means that you won't need to hunt around for games with a 9/6 price as they are freely available. You will need to avoid 9/5 and 8/6 games as they do crop up, and there is no reason why you would be looking to play with these odds attached. It goes without saying that anything lower than this should also be avoided.
Hand Charts
As we've mentioned, there are a lot of similarities to blackjack in the strategy that you can apply to video poker. There are plenty of hand charts that are circulating online highlighting the exact process that you need to take with each hand.
The availability of these hand charts makes it possible for a player to operate a 'perfect' strategy. This is a vitally important part of the game and the RTP rates that we have stated are only possible when these strategies are put into play.
There is a chart for each variation of the game and you can find them online for free. Providing you are playing online you can take all the time you need to cross-refence your hand with the chart to make the right call. If you are playing live, it's likely you are going to be asked to make swifter decisions, so you will need to have learned them by heart.
As we mentioned there are charts for each game, but here is how it would look for Jack or Better.
The ranking below is the strength of the hand, so if you have two or more possible combinations then you always take the play of the higher number hand on the list. For example, if you have a low pair (9), take that over an open-ended straight draw (10) all day.
Royal flush, straight Flush, 4 of a kind
Four cards to Royal flush
Full house, flush, straight, 3 of a kind
Four cards to straight flush
Two pair
High Pair (Jacks or Better)
Three cards to Royal flush
Four cards to flush
Low pair
Open ended straight draw
Two high cards with the same suit
Three cards to straight flush
Two high cards, different suit
10 K, 10 Q or 10 J suited
High card
The idea is that you take these cards and draw to the rest of the cards in your hand. Let's run through a quick example of how this might work.
You are dealt: Kc, Qc, 7d, 5h, 2s.
If we run our hand through the list we see that we match with number 11, which is two high cards of the same suit. The right play here would be to discard 7d, 5h and 2s, as they aren't included in this.
Apply Strategy to Each Game Type
We've spoken a lot about Jacks or Better in this article and that's basically because it's the easiest game to work with, so most people can apply a strategy to it. There are plenty of games to choose from that might be better suited for each player, though.
Regardless of which game you play, there will always be an optimal strategy that gives you the best chance of earning the most money. The hand charts are one way that you can instantly do this and are a great way for beginners to really grasp all game types.
The key is to take the games slowly. Online you can play at your own pace and work through each chart with each hand you are dealt.
Some people like to sit down and really go through the maths. It's not necessary, but it can aide your understanding. Without diving in too deeply, it comes down to probabilities and the combinations of hands that are possible.
Remember, most games play with just a 52 deck of cards. After each hand the cards are shuffled and then they are all back in play. This constant resetting means that we can now work out the probability of a certain card coming up and then work out the combination from that.
Perfect Strategy = High RTP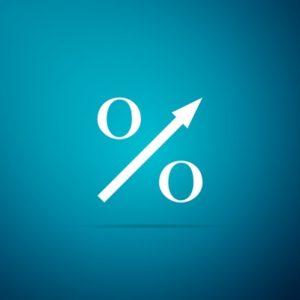 The high RTP figures for video slots are headline grabbers. Some jackpot games come in over 100% which is staggering really when you think about it. But this only works if you are applying a perfect strategy to every single hand.
The moment that you lapse, or if you simply can't be bothered, you would actually be better off going to play online slots. The rates that you can get for slots are usually around the 94-98% mark, but they don't require any thought or strategy, you just mash the spin button.
Once you stop applying the correct strategy, and we are talking deviating just ever so slightly here, then you are making the games massively more weighted in the casino's favour.
They go from being some of the most rewarding to the least rewarding games in any online casino.
Getting a Positive Expected Value Using Progressive Jackpots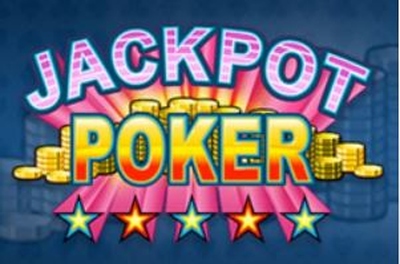 Progressive jackpots are one of the most favoured features of video poker. They are jackpots that are built up over time, taking a small percentage of each bet and putting that into a prize pool. Given that the money comes from a huge number of hands, the jackpots can start to rise pretty high.
To trigger the jackpot, you generally need to hit a Royal Flush; this is where you have A, K, Q, J, T all suited.
Jackpot games are not only lucrative, but they can also switch games to a positive expected value as well. This change comes from a switch in strategy on the players part. We've spoken about optimal strategies and hand carts above, but these can be modified to hit certain hands if needed, such as the Royal Flush in this case.
A Royal Flush would land one in 40,066 hands if you played a regular perfect strategy. But this number can be reduced to as low as once every 34,880 hands if the strategy were to change to target a Royal Flush specifically. To do this it would mean that you were specifically removing cards that were paired and lower than a 10.
The downside is that the number of payouts over your play session would massively decrease. You would eliminate a vast number of potentially high payouts in the chase to hit the progressive jackpot amount.
The game can alter to become a pure jackpot mission, but for this you need to be prepared to lose a lot of hands and therefore a lot of money on your quest. These are where you start to get the 100%+ RTP rates though, and if you do land a progressive win, the money is likely going to be lifechanging for most.