Types of Bonuses
One of things that you will find is that all bonuses work slightly differently to each other.
This could be down to a number of factors such as the bonus amount, the wagering requirements, rules, and dozens of different variables.
The fact is that each casino bonus is going to suit a certain type of player more than another; so don't just go with the bonus that's the biggest, but instead go for one which suits the types of casino games that you will be playing as well as the frequency with which you will be playing them.
Below, we have highlighted a number of different casino bonuses and how each of them works.
Have a look through and see which of them appeal to you, and how they might fit in with your style of play.
First Deposit
The most popular is usually that of the first deposit bonus. This is where the casino is going to match the amount of your very first deposit and credit the same amount again to your bonus amount.
The percentage that is matched is one variable that people need to take note of. These can range massively from as little as 10% up to 500% and even more in some extreme circumstances. So, this will affect how much you choose to deposit.
For example, let's say that you take the casino up on a 100% match of your first deposit up to £100. If you deposit £50 with this offer selected, then you will get an additional £50 in bonus money. When added to your bonus money you have a total playable balance of £100.
It's worth noting that you are able to deposit more than the bonus amount and still claim the bonus. So, if you deposited £500 using the same offer, you will still get the 100% match, but only for the first £100 of your deposit. In this case it would mean you have your £500 deposit amount, plus a £100 bonus to give you a £600 total playable balance.
You need to check to see if you have to use a bonus code with these offers. Some include them and some don't, but if there is a code and you fail to enter it from the start, you likely won't be able to claim these offers at a later date.
No Deposit
Whilst not as common as it used to be, some casinos will offer you a no deposit bonus to join the casinos. For these offers, you won't need to make any sort of deposit and they will effectively give you free money to start playing at the casino.
What you will find with these offers is that they are much lower in terms of monetary value. Whereas deposit bonuses can reach several hundreds of pounds, no deposit bonuses are usually around the £5-£25 for most casinos.
Another point that you need to take into account are the wagering requirements. We explain what they are and how they might work later in this article, but they are often much harder to play through than most of the deposit options.
The best way to look at these bonuses is as a 'free go' to explore how the casino in question works. Yes, you are playing with free money, but the reality is that this bonus money is difficult to change from a bonus balance into a withdrawable balance (although certainly not impossible).
As mentioned, whilst these offers are rare these days they require no money up front from the player, so they still work out to be the most valuable of all casino bonuses.
Free Spins
Free spins have started to become a really popular lure from casinos. The majority of casino players will venture towards online slots at some point, and it's here where the free spins come into play.
They generally work in one of two ways; the first is that the casino offers you a bunch of free spins on one of their slots (real money) to come in and play at their casino. The second is that the free spins are used as part of the welcome package. So, it might be that they offer you a first deposit bonus plus a certain number of free spins.
The free spins will be attached to one specific game within the casino. Starburst is a slot that many casinos use, which is a game that comes with a 96.1% RTP and is generally a medium to high volatility game. They include this game type as it's one that means players are likely going to lose short term, but when they win, they will win big.
The next thing to note is any winnings that you get from these free spins. Again, there are a number of routes that casinos can take with this.
The first and most common is that any money won from the free spins then get added to your bonus balance. So, if you get 10 free spins and won £100 from those free spins, you would get £100 added to your bonus balance.
The second is that you get to keep any winnings from the spins as cash. This is pretty rare, but not unheard of. If you can find these offers then these are some of the most lucrative casino bonuses you can get. As the games that you are allowed to use the spins on are going to be mid to high volatility, it means that you can win some big prizes from your free spins as well.
The number of free spins that you get is going to vary. Expect anywhere between 10 to 100 as a rough guide. If you are getting in on offers that give you cash rewards from the free spins, the number of spins will be on the lower side, but for bonus balances, expect the higher end of the spectrum.
Multi-Stage Bonuses
Multi-stage bonuses are where the casino rewards you for multiple deposits into your account. This might be your first 2, 3, 4 or even more deposits, but offers will be applied to each.
For example, here is a common platform that a casino might offer you in terms of bonuses for each deposit that you make:
Deposit 1 = 100% match up to £100
Deposit 2 = 50% match up to £200
Deposit 3 = 50% match up to £200
Deposit 4 = 100% match up to £500
As you can see, the more deposits that you make, the more you are going to be able to claim in the form of bonus money. The terms will range for each offer, but most will allow you to make consecutive deposits all at once to get your bonuses applied to your account in one swoop.
However, as we speak about later in this article, each bonus will come with a timeframe within which it needs to be cleared before it expires. So, if you do it this way then the clock will start ticking for each bonus, so it might make more sense to take them one at a time and work through each individually.
These types of bonuses can sometimes be called reload bonuses and they work great for players that are going to be sticking about for a prolonged period of time. The sizes of these bonus can be quite large and over the course of several deposits can really enhance your bankroll.
Cash Back
Cash back bonuses used to be massive within the online casino sector, although they are a little out of fashion now. They work in such a way that the casino will refund your money if you lose while playing there.
For example, they might offer you a 10% cash back deal on all losses at their casino. So if you lost £100 in a month, the casino would then credit your account with £10 which is 10% of £100, thus honouring the cash back deal that you have in place.
The types of deals that you can get with cash back are often negotiable, and if you play either high stakes or high volume then you can often create specialist deals with certain casinos. For those that are familiar with the online poker industry it's a little like getting rakeback deals, although again, these aren't as common as they once were.
You're going to get one of two cash back types; the first will be that cash back is paid into your account as money that you can withdraw, the second is where the cash is paid into your account as a bonus which you will then need to wager through. The most popular is definitely getting the withdrawable deal, unsurprisingly.
Free Play
Another bonus type that isn't as common anymore is casino free play. This is where the casino will let you loose on their virtual turf for a certain amount of time, and any winnings from your time playing will be added to your account as either cash or a bonus.
This method is barely ever seen these days as players were easily able to create multiple accounts and essentially get money for free.
However, bonuses that do include it are great for people who are new to online casinos to get a feel for how the real money games work without having to risk their own money.
VIP and High Roller Bonuses
For those of you that going to be playing for high stakes, you will likely be able to take advantage of higher bonuses as a result. Most casinos will welcome high rollers with open arms and as a result you can often command more perks from your time there.
What you get will depend on the casino, but it's not uncommon to get welcome bonuses such as a deposit match that is 10x larger than the standard offer given to Joe Public. Aren't you special.
If there isn't already something on the table, our best advice with these offers is to get in touch with the casino, explain the games you are looking to play and the stakes you will be at, and then come up with something from there. You will be surprised at how accommodating most casinos will be, especially if you can guarantee a prolonged period of play at their casino.
Payment Method Bonuses
One of the points we will talk about later in the article is payment methods and how not all casinos will allow you to claim all bonuses with each payment they accept.
But this does mean that some are targeted towards certain payment methods, which can be taken advantage of if you are flexible with how you get your money in and out of online casinos.
Refer a Friend Bonus
Online casinos are constantly looking to get new customers onto their websites and playing their games. One of the ways they do this is by offering existing customers the chance to refer friends to come and join.
As an incentive, the casino can offer the player either a cash reward or an additional bonus. The price will be fixed per player, so you know what you're getting.
For example, it might be that the casino states you can claim £50 in bonus money for each player that you refer. The player will need to either input your username when signing up or follow a unique link, then, once they have signed up and deposited, the bonus will be credited to your account.
Wagering Requirements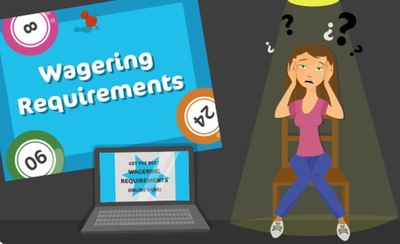 The most important thing that you need to note with all casino bonuses is the wagering requirements. The monetary value that's on the table is totally irrelevant if the likelihood of you clearing the bonus is slim to none.
Each bonus will come with its own wagering requirements and this is basically the amount that you need to play through in order to release your bonus money as cash. You see, when bonus money is applied to your account, you can use it to play casino games but you can't just withdraw it. This is to stop people signing up, depositing, claiming their bonus and then leaving with free cash.
The top and bottom is that some casinos make it harder than others to claim your bonus money. In fact, some casinos can make it nigh on impossible to withdraw your bonus money, so you need to be aware of this.
The amount you need to wager will either be a multiple of the amount you deposited and the bonus, or just the bonus amount. The latter is the much more lucrative scenario for the player as it means that they need to play through a much smaller amount to release their bonus cash.
The multiples are going to range with each casino, but somewhere between 20x and 50x is pretty common. Any lower is a really good deal and any higher is getting into a the 'poor' bonus category.
Let's run through a quick example.
You take a 100% match up to £100 first deposit bonus and claim the full amount with your £100 deposit. You now have both your £100 deposit and the £100 bonus, so £200 in total.
The wagering requirements for this bonus state that you need to wager through both the deposit and the bonus amount 30 times before being able to withdraw. We know the total amount is £200, so we multiply this by 30 to get £6,000. This is the amount that we need to stake at the casino before we can withdraw our bonus funds.
If we took the same example and changed it from including both deposit and bonus amount to just the bonus amount, this would be £100 x 30 which gets us a wagering amount of £3,000. As you can see, promotions that include both the bonus and the deposit are going to be much harder to clear than offers that just state the bonus amount.
It's worth noting that the rates you get can change quite dramatically by game type. Some bonuses will actually exclude certain games, others might set different terms for different games. A typical example might be a 20x wager requirement for slots, but if you play blackjack this number jumps to 50x.
Following the Rules
There are a lots of terms and conditions to look out for with casino bonuses and they can often through a few spanners in the works.
If the casinos are effectively giving away money for free, then you can expect to have to work for it – there's no such thing as a truly free lunch, right?
The trick here is to be aware of the general terms, so you do need to read the boring bits so you don't end up in a difficult situation.
Below we have included certain rules that some bonuses may or may not include. They aren't difficult to get your head around but if you don't know they exist they are easy to miss.
If you are aware of them now then they become super easy to look out for later on down the line, which means you are less likely to get caught out or stuck trying to clear a bonus that you've actually no chance of clearing.
Deposit Methods
We've briefly touched on this, but most casino bonuses won't allow these offers to be claimed using certain deposit methods, even though they are accepted at the cashier. The main reason behind this is preventing people from manipulating the offers and claiming more than one.
The usual suspects include deposit methods such as e-wallets (Skrill, Neteller, PayPal etc.), cheques, and pre-paid cards. Given that you don't need to register sensitive personal payment details with these methods it makes banking anonymous to a certain extent. If you can bank anonymously, then the casino has no way of knowing if you are who you say you are.
Pretty much all bonuses will include banking methods such as debit cards as these require you to keep a card on file, but others can often be excluded. There are bonuses that have been set up for other methods, but they are pretty exclusive and you won't get as lucrative an offer as you usually would.
Min/Max Bet
When it comes to clearing your bonus and meeting the wagering requirements, you may find that the casino will cap the minimum and the maximum that each bet can contribute towards clearing the bonus.
For example, you may be asked to wager through your bonus 30 times, which could be £1,000 in total wagers. The casino might set a cap of a £5 minimum and £50 maximum bet; if you bet less than £5 then your bet won't be classed as an eligible bet and if you bet more than £50, only the first £50 will be count. Some rules even state that if you bet more than the max then none of the stake will count.
The casinos do this so that you can't just bet the whole amount in one go. So, if you have a £1,000 wagering requirement, you can't just place a wager of £1,000 and clear the bonus. They are trying to make you play more at the casino.
Excluded Games
Another point we've briefly touched on is the fact that some games aren't counted towards clearing a bonus. You may find that a lot of table games are excluded and a lot of bonuses will encourage people to play slots, where the casino has a higher edge.
Again, like the payment methods, there are bonuses that are targeted towards certain games. Two popular games are that of blackjack and roulette. What you will find is that the bonuses can be cleared from these games, but the wagering requirements are much higher.
It's not uncommon to see a slots-based bonus have 30x wagering, but for it to be double that for a table game, even though you are betting the same amount. This might be integrated into the same bonus as well, so you can clear the requirements with different games, but they will also be weighted differently.
Clearing Timeframe
Each bonus is going to have a time limit. These timeframes will range depending on your bonus and the longer you get, the more chance you have of clearing it.
Most bonuses will come in at around 7 to 30 days, but it's not uncommon to see these limits increased to upwards of 60 days. These timeframes will be very strict, and if you've not cleared the full amount in that time then you will lose the whole bonus.
Also, if you make a withdrawal from your cash balance within this timeframe then a lot of bonuses will become void. You may also lose any winnings from the bonus as a result. So, whilst you can make a withdrawal (it's a common misconception that you physically can't withdraw) you're likely going to lose your bonus as well.
Verification
With recant changes from the UK Gambling Commission coming into effect as of 2019, you may now be asked to verify who you are before you make your first deposit. The norm was for gambling companies to do this on your first withdrawal, but the crackdown has flipped this to deposits in order to prevent problem gamblers, vulnerable people, and underage people from playing games at all.
As a player, it's best to have some sort of photo ID and proof of banking method on hand to send the casino as you sign up. This can be a driver's license, passport, copy of bank card, utility bill, that sort of thing.
It's a process that takes a little time but, although it used to be instant, this is definitely for the good of the industry to protect those who shouldn't be playing. If you don't get asked when you sign (some don't as they might already be on file or at least known to the casino), it's likely worth reaching out and getting verified at your earliest convenience to avoid delays further down the line.
One Account/Bonus per Household
The casino will limit one bonus or account per household.
If there are other people in your house who have either already signed up to that casino or who have claimed the bonus, then you may first be refused an additional account and/or refused access to their bonus.
If there is a case where you and a flatmate both want to sign up, or someone from your apartment block is already registered, then it may be worth contacting the casino to state this.
You will most likely both be required to send multiple forms of ID to confirm you are different people, but even then there is no guarantee that multiple accounts from one address will be allowed.
If You Are Unsure, Ask!
One of the best things about the gambling industry as a whole is that things like terms and conditions for bonuses are much more transparent than they ever used to be.
The Gambling Commission have had a huge crackdown not just on what casinos can offer, but also how they promote these offers.
You shouldn't need to trawl through dozens of pages of small print to see what's going, but if you still have questions or some terms aren't clear to you, then don't hesitate to get in touch.
If you think that a bonus is not fairly advertised or is false, then you can get in touch with the UK Gambling Commission directly or contact the ASA (Advertising Standards Agency) who will look at your case on your behalf, before then contacting the appropriate outlets.