Roulette is one of the simplest casino games to learn. For each spin of the roulette wheel, your aim is to correctly guess the number that will come up, or predict the group of numbers to which that number belongs – such as odd/even, 1-18/19-36 and so on.
We'll explain the different types of bets you can place in a minute, but first let's take a look at the roulette wheel and the layout.
The Roulette Wheel
There are two main types of roulette wheel – single zero and double zero. The single zero roulette wheel (French/European Roulette) is made up of slots containing numbers from 1 to 36 as well as a zero (0). The double zero roulette wheel (American Roulette) also contains a slot for a double zero (00). Thus single-zero roulette has 37 slots, and double-zero roulette has 38.
Each of the numbers from 1 to 36 are assigned a colour of either red or black, whilst the zero and double-zero are green.
The numbers on a roulette wheel are not in numerical order, however most roulette wheels follow a standardized layout:
Single Zero Layout
0 – 32 – 15 – 19 – 4 – 21 – 2 – 25 – 17 – 34 – 6 – 27 – 13 – 36 – 11 – 30 – 8 – 23 – 10 – 5 – 24 – 16 – 33 – 1 – 20 – 14 – 31 – 9 – 22 – 18 – 29 – 7 – 28 – 12 – 35 – 3 – 26
Double Zero Layout
0 – 28 – 9 – 26 – 30 – 11 – 7 – 20 – 32 – 17 – 5 – 22 – 34 – 15 – 3 – 24 – 36 – 13 – 1 – 00 – 27 – 10 – 25 – 29 – 12 – 8 – 19 – 31 – 18 – 6 – 21 – 33 – 16 – 4 – 23 – 35 – 14 – 2
Roulette Table Layout
When playing Roulette in a brick and mortar casino, bets are placed on a cloth covered betting area called the layout and, just like the roulette wheel, its pattern is standardized. Online casinos usually provide players with a graphical representation of this layout onto which virtual bets are placed.
The layout consists of two betting areas – the inside and the outside. The inside is divided into individual squares, each representing a number on the roulette wheel. On the inside you can place bets on specific numbers.
The outside is used to place group bets. So if you want to place a bet on black, odd or a column, you'll be doing it on the outside of the layout.
Inside Roulette Bets
Chip 1: Straight Up – A bet placed on a single number – eg: 23. Payout is 35 to 1
Chip 2: Split Bet – Placing a chip on the line that separates two numbers is a split bet. If either of the numbers comes up, you win. Payout is 17 to 1.
Chip 3: Street Bet – Three numbers in a row. To place the bet, put the chip on the edge of the row on the line that separates the inside from the outside. Payout is 11 to 1.
Chip 4: Corner Bet – A bet that incorperates 4 numbers by placing the chip where the four corners intersect. Payout is 8 to 1.
Chip 5(a): Basket Bet – In single zero roulette, a bet placed on 0, as well as 1,2 and 3.
Chip 5(b): Top Line – In double zero roulette, a bet placed on 0, 00, 1, 2 and 3. The bet is placed on the corner of 0 and 1 or 00 and 3.
Chip 6: Double Street – Six numbers over two rows, which is essentially two adjoining Street Bets. Place the chip in between the two street bets. Payout is 5 to 1.
Outside Roulette Bets
Chip 1: Red or Black – Bet on the colour of the number which comes up. Payout is 1:1.
Chip 2: Odd or Even – Whether the number will be odd or even. Zero is neither odd nor even. Pays even money (1:1).
Chip 10: 1-18 or 19-36 – A bet that the number will either fall between 1 and 18 or 19 and 36. Another even money bet.
Chip 20: Dozens – A bet placed on one of three groups of twelve numbers – 1-12, 13-24 or 25-36. Payout is 2:1.
Chip 50: Columns – Another bet of 12 numbers, but this time all numbers in a column. Payout is 2:1.
En Prison & La Partage
In roulette, the En Prison and La Partage rules cut the house edge in half, but only for even money bets. The two rules vary slightly, but the general principle is the same:
En Prison Rule – Whenever the roulette wheel spins a zero, all losing even money bets (such as odd-even, black-red and so on) are held 'en prison' and carried over to the next spin. If the bet goes on to win, the players bet is returned in full. If it loses, the bet is considered lost.
La Partage Rule – Like the En Prison rule, the La Partage rule comes into effect when a zero is spun. The difference is that instead of carrying your bet over to the next spin, a sum equal to half the bet is returned.
Called Bets
Also known as Call Bets or Announced Bets
There are a number of roulette bets that have evolved which are placed by "announcing" the bet to the croupier. Usually, these involve on physical sections of the roulette wheel, although announced bets are also used to place other complicated bets.
The purpose of most called bets is to place a wager on a specific section of a roulette wheel. They are favoured by high rollers or players who think that they have identified an imbalance in the roulette wheel which would lead to a bias towards a specific number. In reality, such wheel biases are unlikely to occur in a modern casino and by definition they could not occur online.
Each of these wagers could actually be physically placed using inside bets, so think of them as short cuts. Many online casinos also offer ways to place these bets, although the method for placing the bet varies from casino to casino.
The bets are often collectively referred to as The French Bets and are normally placed in French or Single Zero Roulette. For this reason, all examples will use the French Roulette Wheel when referring to ordering and odds.
Voisins du Zéro / Neighbours of Zero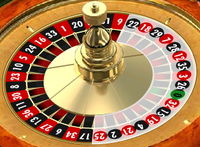 Quite simply, a series of 17 numbers around Zero made up of the section of the wheel between 22 and 25 (inclusive). The bet must be in a multiple of 9 chips and is made up of:
Two chips on the 0,2,3 Trio
One chip on the 4/7 split
One chip on the 12/15 split
One chip on the 18/21 split
One chip on the 19/22 split
Two chips on the 25/26/28/29 corner
One chip on the 32/35 split
Jeu Zéro / Zero Spiel / Zero Game
Originating in Germany, this bet is for the numbers closest to Zero and incorperates: 12, 35, 3, 26, 0, 32, 15. The bet is placed in multiples of four chips in the following pattern:
One chip on the 0/3 split
One chip on the 12/15 split
One chip on 26
One chip on the 32/35 split
Le Tiers du Cylindre / Tiers / Thirds of the wheel
A twelve number bet which covers a "third" of the wheel (it actually isn't an exact third, but it's as close as you can get). The section is opposite zero and is made up of the numbers between 27 and 33: 27,13,36,11,30,8,23,10,5,24,16,33. The bet is in mutiples of 6 chips and involves:
One chip on the 5/8 split
One chip on the 10/11 split
One chip on the 13/16 split
One chip on the 23/24 split
One chip on the 27/30 split
One chip on the 33/36 split
Neighbours
Neighbours is a term for a bet placed on a number, as well as the two numbers on either side of it. The bet is make up of 5 straight up bets, one on each number.
So for Zero and the neighbours, you would be placing straight up bets on 3, 26, 0, 32 & 15.
Orphelins / Orphans
The orphans are the two sections of the roulette wheel inbetween the voisins du zéro and le tiers du cylindre. Or to put it another way, any number which is not included in the previous bets. There are 8 numbers in this bet: 17, 34, 6 and 1, 20, 14, 31, 9. The bet is placed as a multiple of 5 chips:
One chip straight up on the number 1
One chip on the 6/9 split
One chip on the 14/17 split
One chip on the 17/20 split
One chip on the 31/34 split
Complete / Maximum Bet
This bet is one for the high rollers and involves placing a wager (usually the maximum allowed, but not always) for all inside bets for a specific number. The actual bet will vary depending on what number is chosen and it's position on the layout, but involves every Straight Up, Split, Corner, Street and Double Street bet which includes the chosen number.
Placing Called Bets Online
So how do you place called or announced bets at an online casino? The method varies but it is generally one of two ways. Some casinos have a button for "call bets" – if you click it, it will bring up a menu with the bet options.

Other online casinos have an area of the layout onto which you can directly place French bets, just like the croupier would do for you at a land based casino. It will be similar to the picture above.