Video poker may seem like a relic of a game, but since it was only created in the 1970's it actually makes it a relative youngster when compared to the likes of blackjack and roulette.
The game has evolved quite a bit since then too in terms of game types and even the rules for existing games. One of the most exciting formats has been that of the multi-hand platform, which is true to name in that you can play multiple hands at any given time.
The basic premise is the same in that you are dealt 5 cards and can hold 1 or more of them before getting your final hand. But there are some differences that you do need to note, which we will go through in this article.
How does single hand differ from multi hand?
Multi hand video poker can range from 2 hands up to 100 hands, so the number that you choose can change the style of the game dramatically. Obviously, the rules remain the same, but you will be linked with a number of other cards to create a wider range of hands.
The first thing to note is that the speed of the games will change. You're going from concentrating on one single hand up to potentially a hundred hands.
Your wager will be priced per hand which will have its own implications. This means that if you're in a game with 100 hands playing £1 per hand, then each round will cost you £100. Any decision that you make has a huge influence on the cost of each hand, so bear that in mind.
Variance lowers
The house edge for video poker can range and has a lot to do with adopting a 'perfect' strategy for the game that you are playing. If you achieve this then you significantly lower the house edge, if you fail to do this then the house edge can be very high indeed.
If you're playing just one game at a time, variance can be very high. You can of course bag some huge wins, but the losing streaks can be pretty brutal. You need to be ready both mentally and financially for these streaks as variance is at its highest here.
With multi-hand videopoker the variance for the game will lower substantially. Given that you can play 100 hands per round, you are potentially playing the same number of hands in just a few minutes that it would take several hours to get through if you were playing single hand.
Lower variance is not always for everyone. Lots of people would still rather play the single hand game precisely because it is higher variance. They like the fact that whilst they are susceptible to lose more, the wins are often bigger, which some people find more exciting.
Difference in pay tables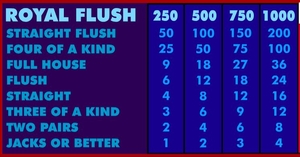 You're going to find that there are often differences between the pay tables that are on offer with single and multi-hand games. Not huge differences, but you will find that the single games will pay higher for certain hands.
Jackpot hands like a Royal Flush are usually paid out slightly lower for multi hand and this even works its way down to include a straight flush, four of a kind and then full house. Lower ranked hands such as flush, straight, three of a kind, two pair and pairs, are usually priced the same.
Whilst we stress this on pretty much all of our video poker articles, we will stress again that you need to make sure you note how the pay tables work for your specific game. There are many variations within both single and multi-hand games, and the payouts will differ for each, offering less (or more) value as a result.
The pay table will have an effect on the RTP for each of the games as well. They vary for each form of video poker, with Jacks or Better offering 99.54% RTP and 10/8/5 Bonus Poker offering just 94.18%.
Bankroll
Multi-hand poker is going to need a bigger bankroll to get going with compared to single hand. Whilst variance will even out faster, it means that you could be on the end of a brutal run initially, depleting your bankroll with just a few hands, especially if you are playing 100 hand games.
Your bankroll needs to be robust enough to make sure that you can survive these swings. It's like any form of poker, you can only move up when you are good enough and you have the financial backing.
Not having either of these considerations tied up is a big risk, and to not have both is financial suicide.
Each game has its own deck
Each hand in your multi hand game will come with its own deck, so the chances of creating a specific hand will be the same each time; i.e. if you are playing with 100 hands then there will be 100 decks on offer.
This is important to note when you start to factor in the price to remove or hold cards.
Lots of people get confused with the smaller games thinking they are linked to one pack of cards, but this is not the case.
Strategy remains the same
One of the best things regarding both single and multi-hand games is that the strategy remains the same. You need to make the same optimal choices for both versions of the game because both play out in exactly the same way.
This makes it a lot more user-friendly than people think, so when people adjust their strategy because of the number of ands they are playing they are making a common error and leaking money.
If you've got the strategy tied down then stick with what you know, even for multi-hand games. If not, then you can use a number of video poker hand charts to get you started.
Which is better?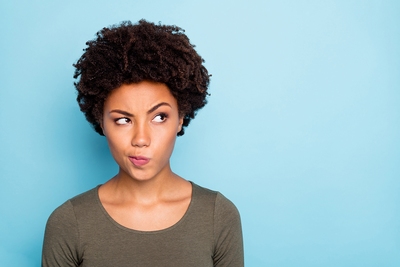 The decision on which is better, single or multi-hand poker, is one that can only be made by the player. There are plus points and minuses for each.
If you're someone that is looking to bet large sums of money, has a good bankroll behind them, wants lower variance and tries to hit big with lots of hands, then we would say that the multi-hand game was for you.
If you don't have a huge bankroll and are looking to grow it quickly using an 'all or nothing' strategy, then we would say that the single-hand game was the one to go for.
If you are totally new, we would recommend the single hand game at low stakes just to get a feel for how the game works. Once you've honed in your strategy, grown your bankroll a bit (hopefully), and are familiar with how the game works, you can then look to incorporate more hands.
Don't forget that there are many different video poker games that you can play and some lend themselves to multi-hand better than others. Take your time, test both at lower limits and then you should be able to tell which format was best suited for you.