Playtech are another of the big hitters in the online caisno industry and have been operating since 1999. The company took two years to finally release their first games in 2001 and since then they haven't looked back.
To give you an idea of the scale of PlayTech, in 2018 they reported revenue figures of over €1.2bn, making them one of the biggest in the industry. They now work alongside some massive casinos as well and their catalogue of over 700 games has proved to be very popular indeed, taking centre stage at many casinos.
What's unique about Playtech is that they have rarely stood still. They've made multiple acquisitions over the years that have helped the firm to grow and develop to cover more bases; we talk more about these acquisitions later in the article.
There are now over 5,000 employees linked to the PlayTech brand and they have offices spread across 17 countries.
Game Selection and Platform
The portfolio of over 700 games is a headline that will impress many. They work with over 30 casinos around the world, so it's clear that they are a popular industry choice, but what really stood out for us was the diverse nature of their catalogue in terms of the products that they were able to offer.
Games were taken from a number of different areas including slots, poker, table games, live dealer, bingo, lottery, scratchcards, sports betting, virtual sports and plenty more. The addition of sports betting is one thing that stood out as they are, we believe, one of the only casino-based game developers that also offers a sports betting platform.
On top of this, PlayTech are still very much invested in land-based casino and offer a number of their games in physical form. The games range from state-of-the-art video slots to that of the more traditional pub fruit machines and pretty much everything else in between.
Their online games are now fully functional with HTML 5, which allows them to offer a solid range on both online and mobile devices, while the live dealer section of the site is extremely impressive.
They are even able to offer a download version of their casino as well, which is rare, although we aren't aware of any casinos that are currently taking advantage of this feature.
It's worth noting that PlayTech also include their ONE Omni-channel solution, allowing players to play their games through one account anywhere and anytime, which is pretty cool!
Slots
As with most game developers, the slots section is the largest and most interesting. Playtech have around 500 slots to choose from, but they state that they try and add 50 new games per year. They also state that they remove a number of games that are either dated or not performing as well as they might, which keeps their massive catalogue feeling buoyant and feeling fresh.
Their work with branded games is probably what they are best known for, and their ties with the DC comic series is another huge tick. These games include the likes of Justice League, Superman and The Dark Knight, but they many many more; The Matrix, Gladiator, and Robocop are just three of them.
The slots selection is easily one of the best that we have tested. It's easy to get caught up in the fact that they are able to offer so many great branded games, but they are also great designers of their own games as well.
Table Games
Let's start this section with the live dealer games. Playtech are easily one of the best in the business for this right now, and have invested a huge amount of money making live casino one of their unique selling points.
The first thing to note is that they offer dedicated native speaking tables, including languages such as Italian, Spanish, French, Romanian and English. They also opened the largest live casino base in Latvia in 2017, boating a massive 8,500sqm of floor space and the capability to host games 24/7, 365 days a year.
The regular table games are about as you would expect from a company the size of PlayTech. Blackjack and roulette both dominate with about half a dozen variants of each, but baccarat, casino poker, sic bo and a number of dice games are available as well.
It's worth noting that all of their table games have been converted for mobile use. They all take on the HTML 5 platform, which is a really good addition and surprisingly one that not all casinos adopt.
PlayTech Acquisitions
What PlayTech have done on an unrivalled scale is expand. They've done this by acquiring a number of smaller developers to come work under their umbrella. A lot of the smaller companies find this attractive since Playtech largely let them go about their business as the always did, but the budgets they have as a subsidiary of Playtech are hugely increased.
The group is now as diverse as they come, and each company they have taken under their wing brings something slightly different to the table. Here is a list of the companies that are now operating under the PlayTech branding.
Ash Gaming – These guys were probably PlayTech's biggest and highest profile acquisition. The deal was agreed in 2011 and Ash gone on to make some of the groups most popular games to date, including Ace Ventura, Classic TV Batman, and Gladiator, to name just a few.
Vikings – PlayTech Vikings are the driving force behind some of their biggest games and work closely with some of the other brands. Games include the likes of Justice League, Legacy of the Wild, and Age of the Gods.
Psiclone Games – Psiclone are a UK based firm and have been making online casino games since 2007. They joined PlayTech in 2014 and are now crating some of the freshest slots in their catalogue.
Quickspin – Quickspin were another of the high-profile companies to get on board with PlayTech and have been part of the group since 2016. They were already famed for creating amazing slots, winning several awards since they opened their doors. Their 60-strong team all moved across and they are one of the strongest strings to the PlayTech bow.
Sunfox Games – Sunfox have been open since 2011 and part of the PlayTech group since 2017. They create stunning 3D graphics for their slots and are widely regarded as one of the most exciting brands in the PlayTech group.
Eyecon – These guys were originally an Australian based casino games developer with a keen eye for innovation. Their 70 strong staff were all acquired by PlayTech in 2017 along with over 70 games that are now in the PlayTech portfolio.
Geco Gaming – Another Australian brand, Geco has been making casino games since 2007 and were acquired by PlayTech in 2016. Some of their games include My Fair Peral, Turn It On, and Glory and Britannia.
Rarestone Gaming – These guys are the newest acquisition coming in 2019. They offer a unique look to how games are developed and PlayTech publicly stated that they were as excited to have them on board as any other casino game developer.

Popular Games
There are certainly plenty to choose from when trying to pick a few favourites from Playtech.
It would be so easy to create a list of branded titles since they have released so many, but we have tried to come up with a nice mix of branded and unbranded titles.
Gladiator
For us, Gladiator is one of the games that has defined where PlayTech have come from as a casino game developer. This 25 payline offering is one of their best, and whilst it is based on the Gladiator movie, we think it would be able to easily stand up on its own without this link.
The art-work from the Oscar-winning film is one of the things that first hits you when you load the game. The Coliseum Bonus round is another feature that we loved and probably the most lucrative of all. Included are a free spins round and a Gladiator Bonus round along with scatters and wild symbols galore.
Age of Gods
Age of Gods in an old-school offering from PlayTech and was one of their flagship titles. It's a little dated now, but it's played an important role in the evolution of PlayTech slots. The game is a 5-reel slot but it's only got 3 symbols, which admittedly looks a little bit odd compared to more modern games.
The game comes with both a bonus and jackpot round, but it's more the fact that they've almost been able to make this game into a brand of its own that's been most impressive. There are several titles in the series including Fate Sisters, Furious, Goddess of Wisdom, King of Olympus, Prince of Olympus and even roulette games. As stated, it's not the prettiest of games these days, but it's arguably their most important.
Green Lantern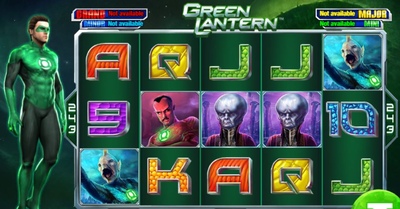 Coming from the comic book series, Green Lantern is another classic game that we think is one of PlayTech's best. What really caught our eye was the use of their 243-payline mechanic. This isn't new technology, but PlayTech manage to make these games work with great RTP's and a well-balanced volatility.
The game itself takes advantage of the collapsing symbols feature, which means that you can get multiple wins from a single payline. The graphics, as you would expect for a game of this calibre, are second to none, and there are few games that are more engaging.
Top Gun
Top Gun was one of the first attempts at branded games for PlayTech. They were able to bring together one of the most popular movies of the eighties and make it relevant again using modern technology.
The game includes certain music tracks and voice overs from the movie, as well as a bunch of our favourite characters as well. As a standalone game it's pretty simplistic, with 5 reels and 3 symbols on each reel, but the music, graphics and design make it a real nostalgia trip for any fans of the movie.
Buffalo Blitz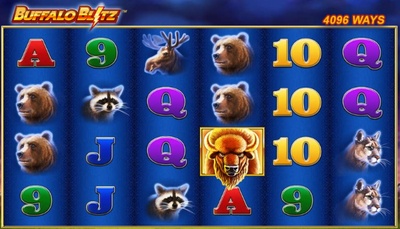 Buffalo Blitz is a game that has been able to showcase their 4,096 payline format. They are one of very few casinos to offer this feature, and as a result the games are pretty intense.
The game is actually quite simplistic, and the theme is one that doesn't catch the eye all that well, but the huge number of paylines is why so many people flock towards Buffalo Blitz.
They have up to 100 free games with each spin, along with wilds that occur in the free spins round as well, which makes it more rewarding than most.