RTG have been able to make it as one of the best casino game developers in the industry over the long term. They've had their virtual doors open since 1998 which makes them one of the oldest in the trade, but it's probably fair to say that it's taken them a little longer than most to get to where they are today.
Better late than never though, and even though they mainly concentrate on slots, they are still one of the most popular company's on the market right now, appearing in over 100 countries worldwide. Even though they are officially based in Curacao, their games are available in a huge number of countries with full licensing for each.
What's worked really well for them over the years is that they are always keen to try something new. They work from an entirely new framework for each new game, which means that each game subsequently functions differently to the others in the catalogue.
RTG have highlighted this bespoke approach as one of their core principles. Whilst the number of games that they offer isn't as high as some developers, the quality is always there, and this is likely the reason why so many casinos have decided to use their platform to build their overall arsenal of casino games.
Game Selection and Platform
The roster includes over 200 games in total. The vast majority of these are made up of slots and to be honest, the table games they have made are so rarely used that we've yet to find a casino that hosts them over rival brands. It's rare for this to happen but it speaks volumes.
The games on offer are up to a high standard on the whole, but the downside is that they aren't a platform that gets rid of older titles, so you can see some games that are now 10+ years old and they feel it too. It's not just a case of how the games look either; a lot of them lack the bonus and feature rounds that we have come to expect from these types of games.
The live casino section has only recently been developed, and whilst there aren't a huge number of casinos that host their live dealer games, the number is respectable considering the live offering has only been rolled out for long.
RTG also recognise the need to provide their customers with mobile optimisation, so they have migrated a lot of player favourites over to mobile for gaming anytime and anywhere. They are adding more games each month and state that this is their number 1 priority.
Slots

About 90% of the catalogue at RTG is taken up by slots. They've set their stall out to be primarily a slot based developer, so this is where they spend most of their energy and money.
The range of games is really good. You can see that they have worked hard to provide a good mix, and whilst the quality can vary due to the older games that we spoke about earlier, on the whole we were pretty impressed.
We know that RTG have taken a bit of flak from other review sites about the standard of those older games and we feel that this is pretty unfair. They have newer flagship games that are as good as any in the industry right now, but it stands true that if they were to remove the older titles and reduce the number of slots, then their catalogue would be much, much stronger and tighter.
Unfortunately, we are in an industry where numbers often speak louder than quality, which is why RTG are hanging on to those old timers.
Table Games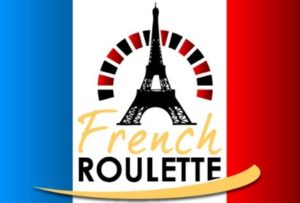 The table games section is pretty low-key to be honest, and there isn't much to get excited about. They do offer the likes of roulette, blackjack, baccarat and craps, but there aren't many variations of each aside from the standard game layouts.
However, what is there works pretty well and the amount you can expand and improve on game of roulette, or any table game for that matter, is pretty limited.
Would we like to see more variety? Of course. Is it a deal breaker? Not really, no.
Live Dealer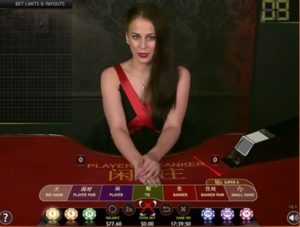 Live dealer games are where RTG have been investing their time of late. It's clear they don't feel as though there is a need for more table games, but with live dealer games you can be much more creative.
At the time of writing they only include blackjack and roulette, but we know that they are trying to get other variations of these games up and running, as well as different games entirely.
The games are hosted by well trained croupiers and streamed from a fully designed set, it's also available in a variation of languages and currencies.
Most Popular Games
RTG offer a wide range of games, but there are definitely some that stand out more than others.
It will be no surprise that we have kept this list to slots since that's what they are best at. Here's our list of some of the best RTG casino games.
Fruit Frenzy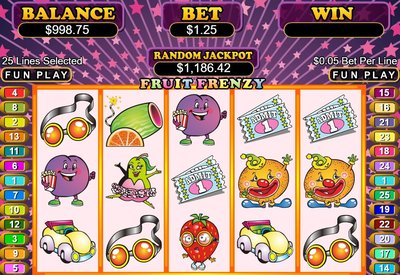 Fruit Frenzy is one of the better titles from RTG and comes in the form of a 25 payline, 5 reel slot. What's good about the game is that it's one of their progressive jackpots, so it comes up with huge amounts of money that can be won regardless of how much money you are playing for per spin.
It's obviously based around fruit, given the name, and it kind of reminds you of the classic fruit machine games from the smoky pubs of the 90s. It's fast and furious as well, which means you can get through some hands seriously quickly and add to those winnings.
Texan Tycoon
A game that is more substance over style, Texan Tycoon has to be considered one of the best slots on the RTG network because of the number of features it come with. The 5 reel, 25 payline offering also boasts an iconic Texas theme and is based around mining for oil in the Lonestar State.
The game includes a good range of bonus rounds and free play features. It also includes a random jackpot that appears to grow slowly as you play the game. It's no progressive by any means, but it's still a welcomed addition and often reaches 5-figures.
Goblins Treasure
Goblin's Treasure is another of the classic games from RTG. It features not one, but two random jackpots that can be used throughout the game and they both offer good value if hit, with the larger winnings coming when playing at higher stakes. It actually functions in a similar manner to that of Texan Tycoon, but we only see that as a positive.
The theme is of course around Goblins and whilst it's a game that looks pretty good, it's another that is substance over style. There are two wild scatters that unlock the bonus round and within that there are a number of multipliers for any winnings.
Naughty or Nice: Spring Break
This is a slot that divides opinions in the industry, but it's a game that we ultimately like. It's the theme that causes the divide as it lends a seductive nature to the game the not everyone is comfortable with, but that's OK with us.
As a slot, it's undeniably good. RTG have utilised their 50 payline game here and with it have been able to offer a really good mix of volatility (medium) and the two jackpots on offer. As per other games, the jackpots are random with a minor and major jackpot, each based on the stake that you are playing. Included are wilds, scatters and free spins offering great depth, even if the design is now a little dated.