Blackjack is one of the most popular table games in the casino. It's a game that is pretty simple to play, but it's also one of the only games where players are able to apply a certain degree of strategy to play at optimum levels.
This makes the game unique, and even though the basic rules are easy to implement, mastering how to play each hand in each minutely different situation is a fine art and can take many years to master. Throughout this article we will be looking at how to play a basic game of blackjack and how to interpret the rules of the game.
It's worth noting that there are several different variations of blackjack. We've included another article where we look through each type in more detail, highlighting how each of them differ, but for this article we will look at the traditional rules, many of which are common throughout each game variant as well.
Equipment and Table Layout
The game of blackjack is generally played with one 52 card deck with any jokers removed. The number of decks used can vary, so this is a factor that will vary with each casino and game variation.
The reason that they do this in the casino is to speed up the game, but online you will find that the deck is 'virtually' reshuffled with each hand, which means it starts a fresh, and therefore only needs to include one 52 card deck. Most blackjack tables will highlight whether this is the case or not.
Above, you can see an image of a typical blackjack table. As you can see here there are three seats in total. This game is called 3-hand, which means that one player can play up to 3 different hands at any one time. These game types might vary with each casino and can range from single seats up to a maximum of 8 seats within one game. Bets and rules will remain the same, it just allows the player to play more hands in a shorter time frame.
In the bottom left of the table you see the coin value for your bet and the balance that you've currently got at the table. Please note that the balance isn't your total balance (unless you have included your full balance), but simply just the amount of money that you've brought to the table.
You can scroll through the coin amounts to choose the bets that you want to make.
The upper middle section of the table will include some text. This explains the rules for that table. It's worth taking note as these will range for each game/casino and it highlights how the dealer will play their hand, if the game includes insurance including price, and the price for blackjack.
So, this text is telling us that if you hit blackjack you will automatically get paid at a price of 3 to 2. The dealer will have to hit on 16 or less and stand on 17 or above. Finally, if you take insurance then this pays out at 2 to 1.
The lower section of the table is where you are able to include your stake for each bet. It's worth noting that if you are playing multi-hand games that you don't have to bet the same amount on each seat. So, you might have three seats, one with £10, one with £20 and one with £30, if you so wish.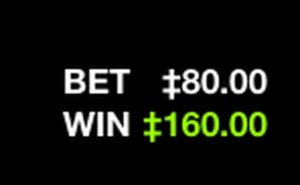 Once you have chosen your stake, the bottom right hand corner of the table will signify the total amount that you have staked for the start of this game.
Just below that it will also highlight the amount you have won from that hand, if anything, so you can easily keep track of your results.
Basic Blackjack Rules
When playing blackjack, the aim of the game is to have a higher ranked hand than the dealer, but without going over 21. It's worth noting that if you are playing with other players (less likely online) then their hands are irrelevant to yours as you are all playing each hand 1 on 1 with the dealer.
Cards are ranked by the number they represent and then combined. So, if you had an 8 and a 7, then your total would be 15. Face cards (Jack, Queen and King) are all worth 10 and an Ace is worth either 1 or 11, and you can choose which number best fits for this. The suits are irrelevant for blackjack.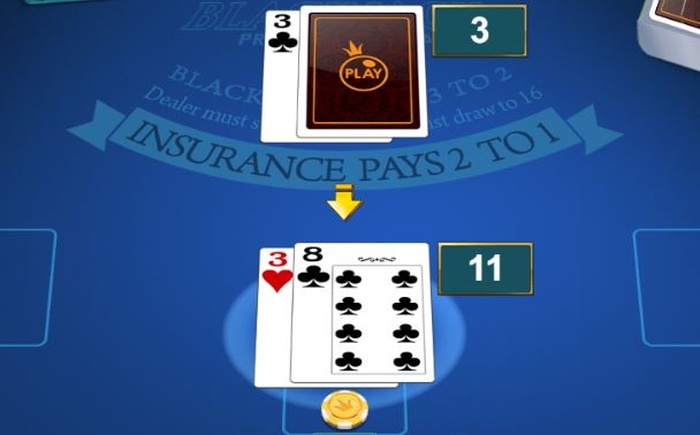 When the game starts you will be dealt two cards that are face up. At the same time, the dealer will be dealt one card that is face up. Sometimes the casino might deal two cards to the dealer, but only 1 will ever be face up.
You then get two basic options, which are Hit or Stand. If you Stand then this means that you are finished with your hand and happy for the dealer to continue to show their hand. If you decide to hit, the dealer will deal you another card face up. You can hit as many times as you wish providing that your total is under 21. Once happy with your hand, you hit the Stand button and the dealer plays out their hand.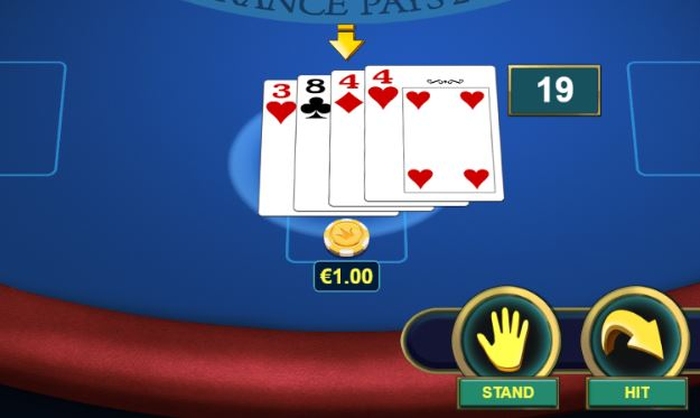 If you go over 21 this means that your hand is now 'bust' and the dealer will win the hand. If you are dealt blackjack (21 with two cards) then you will be paid out at the table rate. The table from the example above would pay out 3 to 2 and this is a pretty common price for blackjack.
If your score and the dealers score are the same, then the hand will be a 'push' which means that you get your stake back. After each hand, the deck resets and you start the cycle again.
Blackjack Bets
Whilst we have shown the basic layout for a game of blackjack above, there are actually a few different bets that you can make in certain scenarios.
Splitting Pairs
If you get two cards that are the same denomination, then you are going to be able to split these two cards to make two new hands. To do this you need to select the split button and then the cards will split. You will need to pay in double your stake to do this and then you play out each hand on their own as single hands.
As you can see from the image above, we got QQ in the first seat and it's given us the option to split this hand in the bottom left of the screen.
We can select split, then it doubles our bet, creates two hands and deals us one more card face up for each card.
You can see that in this case we were dealt two more face cards, giving us 20 for each and decided to stand. Our bet won and we then get paid out for each winning hand that we split.
It may be that one or none of the hands can win and it's important to treat both as separate hands.
Double Down
Doubling down is where you pay the same as your original card for one additional card that is dealt face down. So, if you made a bet of £40 originally, you could essentially buy one more card for another £40. You can only have this 1 additional card though if you do this, and then you have to stand with whatever combination you have.
You may be wondering why you would do this when you can hit as many times as you like for free, but actually, combinations such as 9, 10 and 11 work well with this as the likelihood of a higher card has increased and then you are able to play for more money on the table.
You can't go broke with these cards either.
Insurance
Insurance is an option that is offered to players when a dealer's face up card is an Ace. Basically, you are taking insurance on the chance that they are going to have Blackjack. Obviously, if they have blackjack then they win, unless the player also has blackjack and the hand will be a push.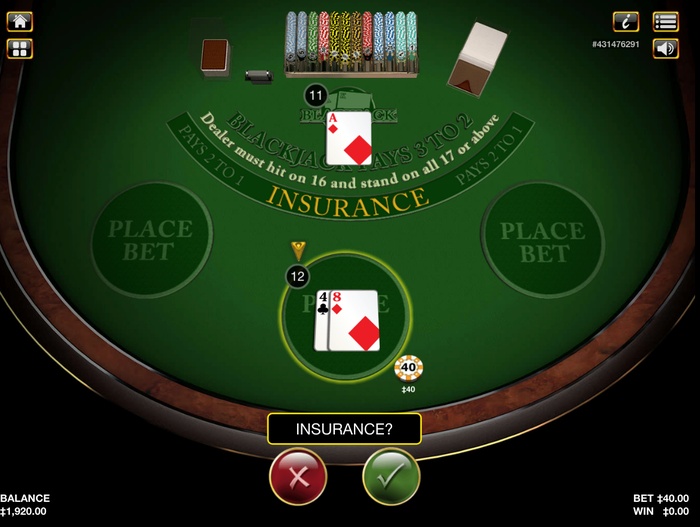 If you decide to take insurance, then you will have to include half of your original stake again. In this case it would be an additional $20 to make a total of $60. That $20 then plays in a side pot, and if the dealer does turn over blackjack then you get paid at the price set on the board.
As stated earlier, this is highlighted in the text at the top, and this particular game would pay 2 to 1.
Blackjack Side Bets
As we've stated, the game of blackjack is pretty simple to learn and it has a very low house edge compared to most casino games. This is one of the reasons why it's so popular and why so many people flock to these tables.
But, to spice things up a little on the part of the casino, some of them include a number of side games that you can optionally partake in. It's worth noting that not all online blackjack games will have these side games, so sometimes they take a little bit of finding.
21+3
One of the most common is that of 21+3. This bet includes a players' first two cards and their face up card. By placing a bet on this side game you are trying to make a three card poker hand with the three cards. It needs to include a flush, straight, three of a kind, straight flush or suited trips to form a winning combination.
Payouts will depend on your casino, but typically you can expect something like this:
| Hand | Payout |
| --- | --- |
| Suited Trips (e.g. Qs-Qs-Qs) | 100:1 |
| Straight Flush (e.g. 7d-8d-9d) | 40:1 |
| Three of a Kind (e.g. 3d-3h-3s) | 30:1 |
| Straight (e.g. 9c-10d-Jh) | 10:1 |
| Flush (e.g. 2h-6h-10h) | 5:1 |
Royal Match
The Royal Match is where you will be required to get a matching pair of face cards that are suited. For example, a King and Queen of spades. These will generally pay out at high odds of 25:1.
Formats of this game can include any two suited cards, which are paid lower, generally at odds of 5:2 or thereabouts.
Over/Under 13
As the name suggests, the over/under game is where you simply bet whether the total of your two cards are over or under 13.
The house will win if the total is exactly 13 and this is widely regarded as the most common and easiest blackjack side bet in the industry.
Super Sevens
Super sevens is a game that pays out on the accumulation of the number seven in your hand. So, if you are dealt one 7 (and it has to be the first card dealt) then you will win at odds of 3:1. If you are dealt two sevens then you will win at odds of 50:1 if they are unsuited, and 100:1 if they are suited.
The game gets really interesting when you play for a third seven in your hand, this then pays out at 500:1 for unsuited 7's, but if all three are the same suit then the payout is a massive 5000:1. It's worth noting that most casinos limit the side bet action on these bets to just £1 due to their popularity.
Lucky Ladies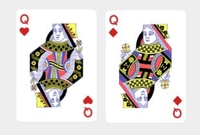 The lucky ladies game is where you are dealt a combination that comes out as 20 from your first two face cards.
The biggest payout for this game comes from a combination of two Queens of hearts, which pays ay a massive 1000:1. Combinations of Queens and other card ranks that equal 20 will decrease accordingly, working their way down to as low as 4:1 for any unsuited 20 combination.
Pair Square
The pair square bet is where you get paid for any pair combination of cards.
For example, this might be a 6 of clubs and 6 of hearts, or an 8 of spades and 8 of diamonds. An unmatched pair pays out 10:1 and a matched pair will pay 15:1.