Rival have been working within the online caisno industry since 2005 and have made plenty of positive strides in that time. They are one of the latest additions to what is known as the 'big 5' when it comes to casino game developers, but it could be argued that they are the most exciting.
The company are able to boast an impressive catalogue of games with over 260 to choose from across the board. What's been good to see from Rival has been their ability to add to their roster regularly and their willingness to remove games that weren't up to scratch.
The fact that over 50 casino clients now use their product is testament to how respected they have become. They've also been able to scoop some pretty brag worthy awards over the last few years as well, meaning that they are getting recognised by their peers for the work that that they have done.
Game Selection and Platform
Across their library of 260+ games, Rival are able to tick a lot of boxes for a lot of people. Saying that, they aren't a brand that you could use exclusively, like Microgaming for example, but they are the perfect partner to go alongside other casino game developers.
Rival are keen to make more than just a massive range of games to choose from though. They spend a huge amount of time in creating titles that have stories interwoven and run these games over 11 different languages to make them one of the most accessible developers in the world.
Possibly one of the reasons why they haven't quite reached the dizzy heights of some of their competitors is that their mobile games selection is a little thin on the ground. They still have a good range, but it's an area that is still steadily improving rather than perfected just yet.
One thing that has stood out is just how well rounded the range of games are. Slots play a big role, like they do with pretty much all online casinos, but on top of that, you have a wide range of table games, video poker, scratch cards, keno and their I-Slot range, which we talk more about next.
Games don't just follow the same platform either, and each is designed with a specific brief. It's also worth noting that Rival create a wide range of 3rd party games for a number of other game developers, which is pretty rare but shows what other brands think of their work.
Slots
Slots are where the main bulk of Rival's stock sit, and we think it's probably their main selling point. There's a great mix of games from 3-reel to 5-reel offerings, and even though the 3-reel games aren't as popular as they once were, there are few developers that have a better range than Rival. Some of them are a little old school but we actually quite enjoyed that, and if you've been playing slots for some time then it's quite nice to go back to the old and familiar.
The standout games for us were the I-Slot series that we touched upon earlier. Rival have created games that follow fairly in-depth story lines as you play. These games aren't just your regular spin and then reset games; they reward players for sticking around for periods of time, and as you work through the rewards can really start to flourish.
These are also some of their better looking slots as well. Most of their products are designed pretty well, but the I-Slot series seems to just have a crispness about them that some of their other titles don't quite manage. You'll find an interesting range of themes to choose from as well, so there should be something to suit pretty much everyone here.
It's also worth noting that Rival have a decent range of progressive jackpot games. These games aren't the biggest jackpots you will find, and compared with other brands they are a little dated in terms of design, but you can still win life changing sums of money from pretty much all of them, so it's definitely worth exploring them if you have a sweet tooth for jackpots.
Table Games
The range of table games is pretty small, with just 10 to choose from and then 7 video poker variants as well. Whilst it is a small collection, we actually think the diversity within it is really good. Sometimes you can get too much choice with these games, with very little between them, and this can make things more confusing than anything else.
You've 2 versions of roulette which are American and European, then 1 version each of Baccarat, Blackjack, Craps, Ride Em Poker, Pai Gow, Red Dog and Casino Battle. Each of them is really nicely designed and we'd definitely say that they are some of the more aesthetically pleasing table games that we have tested.
On top of this, Rival include a few 'speciality' games which are things like scratch cards, instant bingo, keno and even sudoku – all nice additions to the overall package and games you don't always get access to from other developers.
Most Popular Games
You will see from this shortlist that the themes are diverse while not necessarily being original, but it's the execution that makes these titles worthy of special mention.
If you are the best in a crowded market, players are still going to want to play your games, even if they have seen similar before.
The Back Nine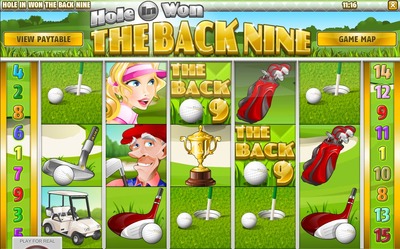 The Back Nine was one of the first I-Slot games that we tested on Rival and we still think it's one of the best. It's a 5 reel, 15 payline game and offers a fully customisable experience as you are able to play as many of those paylines as you want.
The game comes with stacked wilds and you will need to navigate yourself around the golf course in order to win more prizes. You need to keep count of the scores since the lower the score after 9 holes the bigger the prize that you win.
Baby Boomers Cash Cruise
Cash Cruise is another of the i-Slot games, and follows your adventures as you embark on your cruise-based holiday. The game starts by visiting the travel agent, and then if you land on the cruise liner you get to spin the Destination Wheel, which then takes you to your destination along with extra credits for your game.
The three destinations are that of the Alaskan Adventure, Caribbean Carnival, and Greek Getaway.  Each has a slightly different theme as you would expect, and you can hit the bonus rounds in all of them by playing games such as bowling, bingo, and clay pigeon shooting. It's one of the most diverse and engaging slots that Rival have made.
Sherwood Forest Fortunes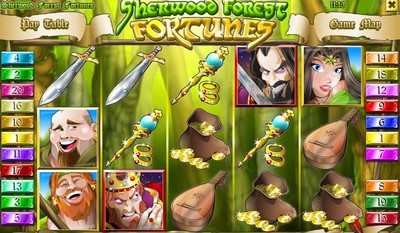 The Sherwood Forest Game is loosely based on Robin Hood, and tasks you with finding the fortunes that are laid out within the forest. The game is one of the best looking in the Rival catalogue and the intense music and graphics make it a solid all-rounder.
You can play up to 20 paylines on this one and it's also one of the higher volatility titles that they offer. Max bet is just £2 per spin though, so you can't blow through your bankroll too quickly, which is good as these games tend to be low volatility.
Smoking Gun
Smoking Gun is one of Rival's latest releases and perfectly shows off where the company are headed and how capable they are at making top quality games for the modern slots player. The Western theme is not exactly new to slots, but the combination of design and sound track is one of the best we have come across.
The game comes with dropped icons, sticky wilds and even expanding wilds, as well as a free spins round. It's a 50-payline game and you can play for stakes up to £125 per spin, so it's definitely one for those of you out there with larger bankrolls.