Video poker is one of the most popular online casino games in the industry. At first glance it looks like it's straight out of the nineties, with 'retro' graphics and simplistic gameplay, but it's a game that allows for more in-depth player involvement than most casino games.
It is a lot like blackjack in that each decision you make can be an optimal or sub-optimal play. A lot of professional players love taking the game on for this exact reason and the fact that plenty of games have very high RTP (Return To Player) percentages, means that it's win-win for well informed players.
What a lot of people get confused about is which variation to play. You see, there are over 60 variants of video poker and each has slightly different rules from the other. We've already written a basic guide on how to play the game, using the Jack or Better format which is one of the more popular, so here we will cover some of the others too.
If you are totally new to the game then we would advise reading the aforementioned article first. Once you've got a basic grasp it will allow you to understand the game types that we cover here, as we will be assuming that you have a foundation level concept of the game as we highlight the differences between each variation.
You won't find all of these games at all casinos. We would say that most casinos will have 3+ versions of video poker at least, but you won't find one with the full catalogue that we've highlighted here. Where possible, we will try and include the game developer for games that are developer-specific, and if not stated, you can assume that one or more game developers run this game.
Jacks or Better
It's probably best to start with the Jacks or Better game as this is not only one the original formats but it's also the most popular. The game can come in a number of variants in terms of payouts, of which we talk more about next.
The game's popularity stems from it being a lot like a 5-card draw game in poker. 5 cards are dealt face up, you can choose to hold none or all 5 of the cards and then you draw to hopefully improve your hand from there.
Payouts for hands start at a pair of Jacks or above, which pays at 1:1 on your stake amount. As your hands improve in ranking so does the payout. The game can differ based on the payout that it offers for a full house and a flush.
The standard payout for this is 9x your stake for the full house and 6x for a flush, but these can change from 9/5, 8/6, 8/5. 7/5, 6/5. Obviously, you want the highest payout games possible, but they have a big effect on the overall RTP.
A 9/6 is deemed the standard, although you can get 10/6 and even 9/7 games, but these are often promotions. If you are playing an optimal strategy for this game you will be at 99.54%, but if you play the same optimal strategy on a 6/5 game then you are looking at an RTP of just 95.00%.
This means that it's imperative to find the bigger games, which are pretty common to be honest. If you are playing on the smaller games then you are literally leaving money on the table, which should never be done.
Pick'em Poker
Pick'em Poker is another highly popular video poker game with professional bettors, but it is often overlooked by the casual online casino player. The reason it's so popular is that the game comes in at a massive 99.95% RTP, which makes it one of the highest RTP percentages of any online casino game in the world.
The game works quite differently from that of standard games, but ultimately you are still looking to make your best 5 card hand. You initially get 2 cards dealt to you and then you get 2 more cards from either of the 2 stacks on the table. You choose to keep 1 of those cards that helps your hand the most and then you are dealt two more cards to finish your hand off.
What's good about the game is that the decision-making process is less intense with just the two cards rather than the 5 cards all at once. You only need to decide to keep 1 or 2 cards and then your final hand is what it is. To get the most out of the game's RTP you need to find where it pays out 239.8 for the Royal flush and the full house paying 11 with the flush at 5.
All American
The All American version of Video Poker has seen most it's popularity stateside, hence the name. It's actually very similar to the Jacks or Better game and offers only a slight tweak to the payout.
You will have an increase in payout for flushes, straights, and straight flushes, however, with that comes a reduction in payouts for full houses and two pairs. Some people enjoy the trade off as they are able to target hands like straights and flushes more easily than pairs and full houses, but to be honest, there is very little in difference between the two games with an RTP of 99.60% compared with Jacks or Better at 99.54%
A word of warning here: the strategy that you adopt for this game will need to differ from the Jacks or Better game. Given that you now need to draw two different hands, there are different combinations of hands that you want to hold and remove. If you can nail the strategy then it's a great game to play, but if you are applying a Jacks or Better or even another form of video poker strategy, then you aren't going to be playing All American video poker optimally.
Deuces Wild
This is one of our favourite video poker games and we think one of the most exciting that you can play. It's also a game that is massively misunderstood and like most games, a poor strategy takes away any player edge.
Deuces wild games can offer up an RTP of 100.9% when played in some Nevada casinos. Which basically means that you have an edge over the house with a perfect strategy. To say these types of games are rare is an understatement.
However, you are going to be looking at an RTP of around 99.45% online, which is still very high and rivals that of Jacks or Better.
The game works differently than most in that any deuce (2) will count as a wild symbol. For those that don't know, a wild basically represents any card needed to improve a hand. So, if you had 2 Jacks on a board plus a 2, you could use the 2 as a wild to represent the 3rd Jack.
Payouts for online games start from three of a kind and up. Four of a kind is going to be your 'middle' hand for this and should pay out at 5:1 for high RTP games. The top paid hand is still the Royal Flush that is made naturally – meaning no wild used – but others work down from Four Deuces, Wild Royal Flush, Five of a Kind, Straight Flush, Four of a Kind, and so on.
Aces and Eights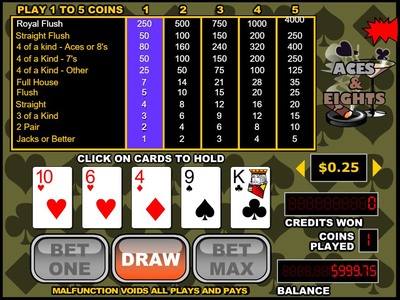 Aces and Eights is another game that has seen huge popularity in the US casinos and now is making its way into the online sector. It's one of the highest paying games that you can get with video poker, offering up a 99.78% RTP, which is really good provided that you are able to apply the correct strategy.
Playing the game is very similar to Jacks or Better, but the main difference is that you get a higher payoff if you make four of a kind that include Aces or Eights.
Given the similarities in the game, it actually makes more sense to play this over Jacks or Better, as long as you are able to apply the right strategy. However, the game isn't as popular, so for whatever reason, even though it pays more, it's not included at as many online casinos as you might think it would be.
Sigma Flush Attack
We are starting to move into more of the 'niche' video poker games with Sigma Flush Attack. The game plays out as a pretty standard video poker game, but with every flush that you make the machine will 'bank' this flush. The idea is that once you hit the jackpot number of flushes for the machine they will pay out huge on that, usually at 100:1 or sometime even higher.
The number of flushes that you need to make will differ between each machine. Some may be as low as 3 but others we have seen have been as high as 10. It's also worth noting that some machines are linked, like a progressive jackpot would be on a slot. When this occurs, the games will play through very quickly and when they are just 1 flush away it goes into flush attack mode. This should prompt the player to start playing hands to make a flush to get the bigger bonus.
The games were fairly common at one point, but they are less so these days. However, we think they are some of the more exciting video poker games, so if you can track one down then they are worth having a dabble – attack mode is a lot of fun.
Bonus Poker
Video poker has a number of bonus games that you can play as well. The original is simply called 'Bonus Poker' and this is basically an extension of Jacks or Better. The difference for this game is that it pays out a higher rate on four of a kind hands. The official rating for this is 99.2% RTP, which is slightly lower than Jacks or Better as it adjusts payouts for hands above four of a kind rankings.
Another bonus game is 'Double Bonus'. This is where the game pays out an additional bonus on four of a kind Aces. Played with a perfect strategy, this can actually have a return of 100.2% RTP, but that is only for the game's offer of a 10/7 split for Full House and a Flush. Usually you will have games that are 10/6 or 9/6, which means that the RTP lowers quite a bit.
The 'Double Double Bonus' game is where it pays out a different amount based on the strength of the four of a kind hand.