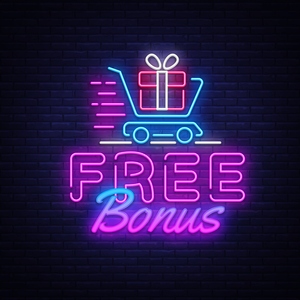 As the online casino industry continues to grow, so do the offers and promotions that are available to new players. The casino sites are constantly going head to head in a saturated marketplace to attract as wide a range of players as possible. As with all forms of marketing, they often need to get creative to convince players to choose their casino over the countless others.
One of the ways that they do this is by offering a wide range of bonuses. Bonuses have been around for decades now but some are most definitely better than others. What you need to consider as a player is that some bonuses will suit certain players better than others. Also, the bigger bonuses are not always the best bonuses.
No deposit bonuses are one form of bonus that has proved to be pretty popular and for good reason. They allow people to sign up to online casinos and get some sort of reward for doing so without spending any of their own money.
The 'reward' will range between casinos, and we will be looking at how they might differ in this article along with terms that you need to be aware of.
What is a no deposit welcome bonus?
A no deposit bonus is just that; a bonus that will be applied to your account without having to make a deposit. They are rarer than deposit bonuses, but they can still be found if you dig deep enough.
They come in a number of different variations, including:
Free spins – This is where the casino will give you a set number of free spins on a dedicated online slot. We've covered this in depth in another article so we won't reference it too much in this one, but it's worth bearing in mind.
Bonus money – This is where the casino will give you a lump of cash to use throughout the casino. This is the most popular form and we go into depth of how this works later in this article.
Free play – This is a set amount of money that you can use within a certain period of time and then any winnings are applied to your account as bonus money.
Cashback – A percentage of your losses that will be paid back over a certain period of time. Also known as rakeback.
What you need to be aware of is that each variation will differ greatly in terms of how they work. The rules for one will not necessarily apply to the other, and vice versa.
Why would the casino offer something for free?
This is a common question that we get asked a lot and one we wanted to answer early on in this article. The fact of the matter is, that whilst the casino is giving the player a leg up to start with, they are playing the long game here.
They are basically hoping that the player comes in and uses the bonus to test out their casino, before then deciding that they want to deposit real money. It's a little bit like a try before you buy scenario.
If you think about, lots of companies outside of gambling integrate this exact same approach to reach new customers. It may be in the form of offering free food samples in a supermarket or a free massage are your local physiotherapist. Either way they are letting the customer try something for free, before eventually (hopefully) signing them up to make money from them long term.
How do no deposit bonuses work?
Let's run through a quick example of how one of these bonuses might work out.
The offer from the casino is that a £10 bonus will be applied to your account when you register. No deposit needs to be made so as soon as you have registered (and probably verified your account given the new regulations in the UK) the bonus money will be sat waiting for you next time you log in.
You can then use that money on a number of games within the casino, although these may be limited – more on this later. The games work just as if you were playing with your own money and will play exactly the same.
To withdraw any winnings from your bonus money you will need to work through the wagering requirements for that specific bonus (again, more on this later). Once you've done this you will be able to withdraw your winnings and your bonus money.
This is a pretty simplistic look at how it works for most casinos, but there are some areas that will need expanding on.
Are they totally free?
We get it. You're reading this and thinking, what's the catch? Well, aside from any usual terms and conditions that you find with all bonuses, there isn't really a catch.
The free money that gets paid into your account is about as 'free' as you're going to get. You can use the money at the casino as you wish, the part that confuses people is when you come to withdraw your money. The casino isn't just going to give you money that you can immediately withdraw and then never come back, you're going to have to work for it.
Which ties in nicely with our next section.
Wagering requirements
The wagering requirements for any bonus is the key to working out the value of that bonus. The no deposit bonus is just one bonus-type that can come with extensive wagering requirements, so it's imperative that you know what to keep an eye out for.
The first thing to note here is the amount of the bonus that you need to wager through before you can withdraw the cash. This figure will be a multiple and will range between 5x right up to 100x. Generally, though, you should be looking at anywhere around the 30x mark, as this represents a fairly good deal. Anything less than this is a really good deal!
Example
£10 Bonus. No Deposit. 30x wagering.
For this offer, you're going to need to wager £300 worth of bets to clear that bonus money and get at your winnings as cash. Any money you make playing with the bonus funds can be used for betting and clearing the bonus too, just to be clear.
We mentioned earlier that the biggest offers aren't always the best, and this is because the more money the casino gives you the harder it will be to clear. We've seen no deposit bonuses up to £50 before, but they came with 100x wagering requirements, meaning that the player would have to wager £5,000 before they were able to get their money – which is tough.
This is one of the reasons we suggest that the turnover amount is the best place to start. If you can grab a deal worth less than 30x or even somewhere around the 20x mark, then this is going to be much more obtainable than most other offers, which means that it is better value.
The next thing to note is that you're likely going to be limited on the contribution per bet that you make. This means that the casino will only allow a certain amount of each bet or spin to count towards clearing your bonus.
For example, if the casino stated that you could only have a maximum of £1 per bet contribute towards clearing your bonus and you made a bet of £10, then only £1 of the £10 bet would count towards your bonus. This stops people from simply depositing the turnover amount and placing one big bet, before then leaving with their free money as well.
You may also find that there is a maximum amount that you can win with these bonuses. So, if there was a jackpot of £5,000 on a certain game and you hit it, the casino could limit this amount to as low as just 10% of the win if you are playing with no deposit bonus money.
The final thing that we want to touch on for this section is the fact that you are going to have limited time in which to clear your no deposit bonus. Again, this will depend on the casino in question, but it's usually around 7 to 30 days. If you fail to clear the whole bonus within the allotted time, then your money will be forfeited.
Which criteria make up the best no deposit bonus?
Finding the best bonus is never easy and it can take a lot of trawling through terms and conditions at quite a few online casinos. There are certain things that set bonuses apart from each other though, so here's our list of what to look out for:
Bonus amount – The amount is a good place to start. You are looking to get the most possible but bearing in mind that the higher the no deposit bonus, the higher the wager requirements are going to be. Anywhere from £5 to £10 is about standard, but we've seen offers up to £50 before.
Wagering requirements – The amount you need to play through to clear the bonus is key. Anything around 30x or 35x is about standard, with 20x or less being a very good deal.
Time to clear – Finally, you need to look at how long you get to clear the bonus. Less than 7 days isn't uncommon, but it's very tough for most players to manage this, even with small bonuses. Anywhere around 30 days or more is going to put you at a huge advantage and give you a good chance of actually being able to clear the bonus.
Who is a no deposit bonus for?
Getting free money is always nice, but we don't actually recommend these bonuses for all players. If you are new to the industry or you're just looking to get a feel of how an online casino works, then we think that these sorts of bonuses are perfect for you. You've nothing to risk here and even if you fail to clear the bonus, you've achieved what you wanted which is to have a look around and gain some experience.
If you're an experienced player with a bankroll behind you then we'd actually advise against picking up these bonuses. You see, the bonus that you're going to get will be small, much smaller than a deposit match bonus, so we would recommend going for something a little bigger.
You will also find that you could be quite limited with these bonuses, both in terms of the games you can play and the amount you can win. These restrictions are much more relaxed with deposit bonuses and overall will hold more value for this reason alone.
Either way, make sure that you're fully aware of the bonus and terms on offer from the casino. Don't fall into the trap of thinking that they are all the same as this could cost you money in the long run and may lead to you failing to clear the bonus.
How to find the best no deposit bonuses?
We have a number of no deposit bonuses listed on the site, but if you're looking to do the donkey work yourself then we have a few tips to help you on your way.
The first thing is to note what sort of games you want to play. Some games won't be eligible for no deposit bonuses, so they won't count towards clearing your bonus.
The next tip is to make sure that you fully understand the T's and C's that are on offer. We've given you a detailed look at what to expect in this article along with examples of what makes a good offer, so you should be pretty clued up by now. Go through them with a fine toothcomb to make sure you haven't missed anything. The eye is in the detail here.
Finally, if it looks too good to be true, it probably is. There are lots of casino brands out there these days, some better than others and some simply untrustworthy. If you've found a no deposit bonus from a brand that you've never heard of and they are offering an industry leading bonus, then it should start to ring alarm bells. Check them out with the UKGC at the very least.
We've dozens of reputable casinos on here and with each, a full independent review. Do your research at the start and not after you've invested your time and money.