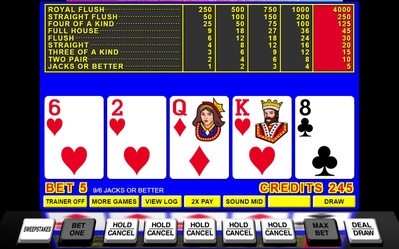 One of the best things about video poker compared to so many other casino games is that you can apply a bit of strategy. It's a game where your decisions matter. With most games, regardless of how well you play the house will still have an edge, part of the fun is minimising that edge with a solid strategy.
As you can imagine, the game includes a lot of different scenarios that might take place. If you've ever played poker games such as Texas hold'em then you will know that rarely are two hands ever the same. There are lots of variables involved and each situation needs to be handled in a different way.
Video poker is a little more black and white than hold'em, but there are lots of variations of video poker so you need to know the specific rules of the game you are playing, and adjust your perfect strategy for each.
A common situation that players find themselves in is being dealt a hand with a low pair that is accompanied by a high card. You can either run to try and make the big hand with the high card or use the low pair to try and create three or four of a kind hands, some of the highest paid in the game.
Remember, a low pair won't get a win in video poker, so you're still looking to improve on your hand here. This is a common mistake that a lot of new players make, especially those that make the move across from the likes of live poker where a pair can be a relatively strong hand.  With both a high card and a low pair, we need to improve from the draw to make a winning hand in video poker.
Hold the high card or hold the pair?
The short answer is that the best play is to hold the low pair. By doing this, you are going to win fewer hands, but you will win more money overall. Let's dig a little deeper into the reasoning behind this.
The easiest thing for us to do now is to work through a quick example and then crunch some numbers with you. We're going to look at Jacks or Better for our example as this is going to be the most common game. You can adjust the method that we use here to other games pretty easily as all you need is the pay table and the then the combinations that will work in that table.
Let's assume that we are dealt the following hand:
King of hearts, 5 of diamonds, 5 of clubs, 8 of spades, and 3 of spades.
This is a typical hand that you might see that would bring about this situation of whether to take the high card or take the pair. There's not much else going on with the hand other than these two options, so we know straight away that we are either holding the King or the low pair.
The next thing we need to note is the pay table. A typical pay table for Jacks or Better is as follows:
| | 1-coin | 2-coin | 3-coin | 4-coin | 5-coin |
| --- | --- | --- | --- | --- | --- |
| Royal flush | 250 | 500 | 750 | 1000 | 4000 |
| Straight flush | 50 | 100 | 150 | 200 | 250 |
| 4 of a kind | 25 | 50 | 75 | 100 | 125 |
| Full house | 9 | 18 | 27 | 36 | 45 |
| Flush | 6 | 12 | 18 | 24 | 30 |
| Straight | 4 | 8 | 12 | 16 | 20 |
| 3 of a kind | 3 | 6 | 9 | 12 | 15 |
| 2 pairs | 2 | 4 | 6 | 8 | 10 |
| Pairs of Jacks or better | 1 | 2 | 3 | 4 | 5 |
There are a couple of notes to make when we hold the pair. The first thing is that we can instantly discount any flush or straight. Only hands such as two pair, 3 of a kind, full house and 4 of a kind now apply.
If you were to hold the high card, then you would be looking 178,365 possible 4 card draw combinations. 111,318 of these would lose, meaning that we get no return at all.
This means that by holding the high card, in this case the King of hearts, we would win just 33.67% of hands at an average return of 2.42 coins assuming 5 wagered.
If we were to hold the pair of fives, then we get just 16,125 possible three card draws. 11,559 would be a losing combination meaning that we get no return. The remaining 4,656 winning combinations are made up of three of a kind, full houses and four of a kind combinations.
This means that we would win just 28.31% of hands, but our average win would massively increase to 4.12, from 2.42, giving us a 70% increase on our returns when we hold the low pair.
Hopefully you aren't too confused from all the numbers, but what we are trying to say is that whilst you will win more often by holding the high card and dropping the low pair, you will actually win less money. The play to make here is to hold the low pair even though the frequency is lower, because the amount that you will win is significantly higher to offset this.
How does this work with other variations of video poker?
The numbers will change somewhat with each version of the game and this is down to the payouts that are on offer. But, the reasoning behind the play would remain exactly the same for each, apart from the margins being a little different.
For example, in Double Bonus Video Poker, the pay table is much more favourable to making four of a kind combinations which would initially indicate that for this game you should be even more in favour of taking the low pair over the high card.
However, this is not the case. The key point here is that Double Bonus pays just 1:1 on 2 pair hands whereas Jacks or Better pays 2:1. This is a small increase, but it's going to be the most common winning hand for holding a low pair, so it actually makes a huge difference.
In this game you would get 2.21 coins if you hold the high card, compared with 2.42 in Jacks or Better, and 3.67 coins compared to 4.12 in Jacks or Better.
As you can see, the numbers are still favourable when holding the low pair, but the margins are smaller for this game.
Final thoughts
This is one of those situations where you really need to play the long game.
It's easy to simply take the notion of going for the big payday with the Royal flush type hands, and that's fine, but this is not the best starting hand to go chasing after that.
It's going to be better long term taking the higher pay over the more frequent wins with lower pay outs.
These are the small margins that you need to implement into your video poker strategy in order to lower that edge against the casino.