Bonuses in the casino industry can come in all shapes and sizes. Whilst general bonuses that are usable throughout the whole casino are most common, there are bonuses that are dedicated to specific games.
Roulette bonuses are just one of these, and they are designed to benefit a specific sort of player that only plays roulette – or at least has roulette as the game that they play the majority of time.
As you can see on site, we've covered lots of variations of bonuses, which means that you can really dial in to one that will suit the games you want to play, but this article is all about roulette bonuses.
What are roulette bonuses?
All bonuses could technically be classed as roulette bonuses. You see, all that really changes between these and site-wide bonuses is the percentage of your stake that contributes towards clearing the bonus.
A roulette bonus should allow 100% of your bets on roulette games count towards clearing the bonus. You can find general bonuses that will do the same, but the majority will have some sort of limitation attached to them that limits your play with roulette.
Given that roulette is one of the most popular games for any online casino this specific bonus makes sense, as there are a lot of customers that only play roulette and they would be alienated by bonuses that prohibit roulette play.
How do they work?
The process should be familiar to anyone who has worked through a previous bonus, but if you're new, then there are a number of points that you need to bear in mind.
The first thing is that you're going to be given a match on your deposit when you register a new account with the casino. The amount will range and, in some cases, quite considerably. A typical example would be a 100% match up to £100 max; meaning that if you deposited £100, they would match this and give you another £100 worth of bonus money in your account.
The next step in the process is that you will need to turnover a certain amount of money before you can withdraw your bonus as cash. This is to stop people signing up for the bonus and just withdrawing it straight away. Again, this number will range, buy typically it's around 50x for roulette bonuses. This means that for a £100 bonus, you would need to wager £5,000 to be able to withdraw it.
Wagering requirements
This is the most important aspect of all casino bonuses and roulette bonuses are no exception. The concept of wager requirements is basically to make you work for your money. The casino will expect you to play a certain amount at their website before you can withdraw your roulette bonus.
The first thing to note here are the games that you can play. As this is a roulette bonus, most will be geared towards this and may even be exclusive to the game in question, but it might include other games as well, so make a note of those.
You then need to see the playthrough rate for your bonus. This is going to be the amount of money that you need to wager before you can withdraw your bonus money. It will be a multiple of the bonus that you took, so bear in mind that the bigger the bonus, the more you're going to need to play through. Multiples will range from as little as 20x right up 100x.
Roulette bonuses are generally higher than your standard bonuses in this regard, mainly because the house edge for roulette is lower than most other games. You want to find the lowest rate possible here, so shop around as they can be quite competitive.
The final thing that you need to note is the timeframe that you have to clear the full balance. Again, this will range, but we've seen as little as 3 days and right up to 90 days. The longer the better as this gives you more time to get the job done and takes the pressure off.
Contribution
In this section, we wanted to look at how contributions to these games might work. It follows on from the "how do they work" section above, but it's a really important part of these offers so it merits its own section of the article.
Game contributions are nothing new, and they work by limiting the amount of each stake from certain games that will count towards clearing the bonus.
This is actually one of the reasons why roulette bonuses have been so popular, because with regular bonuses the game's contribution is often heavily capped, meaning that it is ineffective for clearing a bonus.
When we mention contribution, we mean the percentage of your stake which contributes to the playthrough amount.
Example
£100 bonus with 20x wagering
This means that you need to wager £2,000 in the casino to clear the bonus. The bonus may also limit the contribution of some games. Let's say that it only allowed a 20% contribution from roulette play. So, if you were to wager £100 on roulette, only £20 of that would count towards clearing the £2,000 playthrough amount, so you would still have £1,980 to go.
With roulette-based bonuses you will find that these contributions are significantly higher, and the best offers even have a 100% match. The ideal scenario, especially if you are exclusively playing roulette games, is that you find a 100% match for roulette wagers. There's plenty out there to choose from, so there is no excuse to settle for less really.
Why do roulette bonuses have higher contribution amounts?
This is a common question and a good one at that. There is a catch in all of this.
With these bonuses you are going to be getting a high match for roulette games it's true, but they may limit it to certain bets on the roulette board. For example, it might be that you can't bet on red or black, or you're only allowed inside or outside numbers.
The rules will change for each casino and even though they are limiting, they do offer better value than simply having the whole game limited, which is something players should avoid.
Here's a list of some general rules that you can expect:
Red/black – This is the most common bet on a roulette table, because players are getting close to a 50/50 chance of winning. Given that the odds are so tight, casinos remove this as an option, forcing players to 'gamble' a little more as a result. It's also worth noting that you won't be able to just bet on red and black at the same time. This would flag in the system straight away and your bet would not count towards clearing.
Odd/even – This falls into the same bracket as the red or black bet in that it's even money, albeit on a different part of the board, and so may be limited. Again, you won't be able to bet on both here as this will be flagged up and your stake won't count towards clearing your bonus.
Inside or outside – This is a rule that we've been seeing more and more often. This is where the casino might only allow bets to count from either the inside (numbers 0-36) or the outside (red/black, odd/even, high/low etc.) of the board.
American or European roulette?
American and European roulette are two of the most popular roulette variants in the industry. They are very similar, but there is one big difference: the American game has and extra zero on the wheel – 00 to be precise – making 38 numbers in total compared with the European roulette's 37.
You would expect that the odds might differ slightly because of this, but American roulette's house edge is actually double that of the European game for this exact reason. Basically, if you have the option you should always play European roulette over American.
The downside here is that sometimes the wager requirements will shift for each game. In fact, they may be considerably higher to clear on European roulette over American because of the house edge.
However, it may still be worth opting for the European game with higher wager requirements. Given that the game has half the house edge, as long as the wager requirement is less than double that of the American game, it's still going to work out better value to play the European format.
You're going to need to do some digging around here to see what's being offered and the games that you need to play to find best value, but there are plenty of bonuses that allow you to play European roulette and get a much better deal than with American roulette.
Live roulette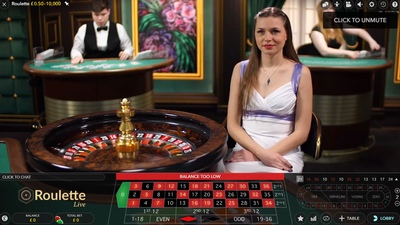 If you've already been searching for roulette bonuses online then you may have noticed that there are an increasing number of live roulette bonuses as well. Live roulette games are on the rise and their popularity shows no signs of slowing down.
The casinos are well aware of this of course and are now offering a range of live roulette bonuses to accommodate the boost in live play.
The reason the casinos love live games is that they run at a much slower rate, meaning that it takes longer to get the same number of plays as an RNG game.
For example, a live roulette table will usually work through around 45 spins per hour. Whereas, a single player playing online roulette with an RNG could get through 200+ spins per hour, which is more than 4 times as many.
As you can imagine, this has a huge effect on a player's ability to work through the wagering requirements and clear their bonus. It's much more likely to happen with an RNG game over the live version, which is why the casinos love to push them so much.
It is worth noting that some bonuses will allow you to play both RNG and live games to clear the bonus, so keep an eye out for those if you're wanting to get a live roulette fix as well.