Online casinos are thriving right now. There's never been so much choice and the standards are higher than we have ever known.
It's not just dedicated casinos that are worth joining, either. Most of the major bookmakers have excellent casinos attached to their sportsbooks and can easily hold their own next to a dedicated casino. In fact, some people might think the addition of a sportsbook makes bookmakers a better package.
If you are new to the industry, or even if you are a veteran casino player, all of this choice makes deciding which online casino to choose quite daunting. You need to make sure that the casino is tailored to your needs rather than letting a review tell you what you need.
This leads us to the major question…
Does Your Casino Choice Matter?
The reality is that a lot of casinos are very similar these days. You often see a lot of overlap in terms of the games that are available, the welcome offers that they promote, and even the design of the casino itself. If they look the same and work the same, does it really matter which casino you play at?
Well, yes it does actually as they aren't all run the same. You see, aesthetically they may look and feel quite similar, but when it comes to the human interaction and the games that they provide, they can differ. So, things like customer service, game selection (can vary massively, but can also be almost identical) bonuses and individual promotions, are some of the key areas that need to be focussed on.
After years of research and constantly checking up on how online casinos perform, we have concluded that even though there are many similarities with some brands, there are also key differences that can impact you heavily.
We can't tell where you need to be – without sitting down with you personally and working through a list of your 'must haves'. What we can do is inform you as to how casinos work. We will trawl through the ins and outs of the industry and give you the tools to make as informed a decision as possible.
Software
One of the first things that you need to be aware of is that most casinos don't produce their own games. They actually buy the rights to games from software developers and then promote them on their casino. This is why you often see the same games at multiple casinos.
We have a full article on this here.
There are a number of different software providers and each bring something a little different to the table. The main ones include Microgaming, NetEnt, PlayTech, Real Time Gaming, and Rival Gaming.
Each software developer creates a catalogue of games over time. These can be anything and everything, from slots to table games and everything in between. They then promote their game packages to the casino who decide if they like what they see. It's worth noting that pretty much all casinos have multiple software companies working with them, which means their casino benefits from a far ranging selection of games.
It may seem counterintuitive for a casino to offer the same games as their rivals, but the time and resources that it takes to create these games is astounding. Building game as well as dealing with thousands of players is quite a task, even for the larger casinos.
It's much easier for a company to partner up with a couple of game developers and have an instant library of hundreds of games for their players to choose from. Start up casinos would never get off the ground if they did this themselves.
It's also worth noting that when you play these games you are doing so on the game developers' network, not the casino network. So, if you played the same game from two different casinos, you will actually still be playing on the same network, so the games are identical, regardless of where you play them.
Progressive Jackpots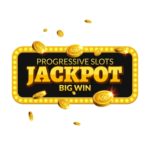 Jackpot games, particularly progressive jackpot games, are a good example of this. With a progressive jackpot, a small percentage of every stake is taken out and added to the jackpot.
As the game is hosted by the software company and not the casino, all the money from players at multiple different casinos are combined into one huge pot, rather than creating lots of smaller pots for each casino.
This is the reason why these jackpots get into multi-million pound territory, they are getting contributions from many different sources.
Game Selection
The game selection for each casino could differ and quite dramatically. The first thing to note is the number of game developers that a casino might have. There is no rule as to how many they are allowed to work with, so some sites have just one big developer to power the whole casino while others use 10+ developers and list thousands of games.
The more developers that a casino uses, the greater range that casino will have. Some developers specialise in certain areas more than others; for example, one company might be awesome at table games, but suck at slots. Whereas another might have thousands of online slots, but no other games to speak of. Individually they won't provide a rounded package, but together they will make a formidable partnership.
The next point to consider is the number of games they have on offer. Again, this will range massively with some sites as low as just a couple of hundred to others that have more than 1,000.
Quantity doesn't always trump quality though, and the reality is that most players aren't ever going to need more than a dozen or so games. From the casino's point of view however, when you have close to 1,000 games you are going to be able to cater for a huge range of players.
Here is a list of some of the biggest and smallest online casinos in terms of the number of games that they offer.
Play Frank – 1,200 games
Royal Panda – 800 games
PokerStars Casino – 250 games
Kaiser slots – 125
As you can see, there are two casinos from each extreme, some a little lighter and some stocked to the rafters. That's not necessarily to say that Play Frank is a better casino that Kaiser Slots, but it does have a lot more choice, so it's naturally going to be able to cater to more players.
Download Casinos
One of the biggest developments over the last decade or so has been the swift departure from downloadable casinos to that of flash-based. This basically means that players no longer need to download the software to their computers, and instead can access all the games via instant play on their web browser.
A huge step forward has come in the form of HTML 5. This is a platform that has allowed developers to create online websites and games in a much higher quality and at faster speeds. Think of it like the step up from standard definition TV to that of 4K, which is just mind-blowingly awesome.
Downloadable options have become rare mainly because of the work needed to tie in games from multiple game developers. Those that still exist today are usually casinos that have just one (or very few) developers powering them, which makes it easier to offer this feature.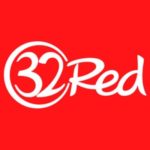 Two casinos that stand out are 32 Red and Mansion. 32 Red are the biggest of the two, and they are actually one of the biggest in the whole industry. Their download function is possible because they only use games from Microgaming. This may seem limiting, but Microgaming can boast over 500 games in their roster, so 32 Red are well stocked.
Whilst downloading may seem a little dated in the era of streaming and instant play, there are actually a few upsides to downloading over instant play. The main one is the quality of the games. There is no doubt that downloaded games look better than browser-based games, because the file that has been downloaded is much larger than the one used online. This means games can be played at optimum rather than having to make aesthetic compromises to allow for speed.
Some argue that downloaded casinos are safer as well as they aren't as easy to hack. People are able to get access to browsers much easier than programs, and the downloaded version has added encryption that makes it much safer anyway.
In terms of ease, the instant-play games have to get the nod though. You can jump in and out with total flexibility and they also tend to load a little quicker, not to mention taking up zero space on your hard drive. However, it's still nice to have a download option, even though those options are becoming rarer these days.
Bonuses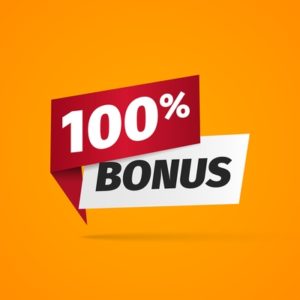 Another way that casinos like to set themselves apart is by using the bonuses. These generally come in the form of a welcome bonus to begin with. So, when you sign up and deposit, the casino will offer you a complimentary bonus fund that works alongside your deposit amount.
The first big difference is the amount of bonus money that you can claim. There are two things that you need to look out for with this; the amount of money and the percentage match.
For example, a typical bonus might be 'deposit £100 and get a 100% match', giving you another £100 in bonus money. This sounds better, but is not actually as good as, 'deposit £75 and get a 200% match', which would give you £150 in bonus funds.
It's worth noting that you don't always want to take the largest bonus that you can get. This may seem crazy as it's essentially free money, but bonuses come with a lot of terms and conditions attached and require you to play through a certain amount of money before the bonus money is released as cash.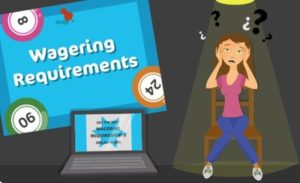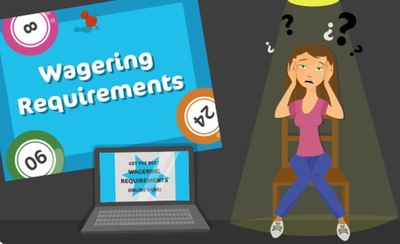 We won't go into depth with this as we've a massive article covering it here, but the basics come in the form of wagering requirements. This is the minimum amount that the casino asks you to wager before being able to withdraw. This will be a multiple of your bonus or potentially your bonus and deposit amount combined.
For example, if they state that you need to wager through your bonus 30x before withdrawing, this would equal £3,000 worth of wagers on a £100 bonus. As you can see, the higher amounts might be unobtainable for players with smaller bankrolls, so it makes sense to shoot for an amount that is realistic for your funds and how often you play.
Banking
Many casino are able to distinguish themselves through banking.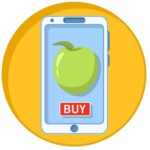 Your banking options are going to differ from each casino, although most will support the main ones like debit cards, e-wallets such as Neteller and Skrill, PayPal, and then bank transfer.
The limits for each method will change from one casino to the next, but there are also some lesser spotted payment methods to look out for. Apple Pay is a new one that is starting to become popular, other e-wallets and now digital bank accounts are popping up as well, and one or two even support Bitcoin and cheque deposits.
It's not just the methods that are getting a bit of a shakeup, but the timeframes. All deposits will be pretty much instant, but withdrawals can take a frustratingly long time to process at some places. For example, you might have one casino that processes debit card withdrawals within 24 hours, whereas another takes up to 5 working days to do the same thing.
Each casino will have its individual timeframes, but even then it can vary. One week your withdrawal may take 1 day, the next it could take 3. It's one of the biggest bug bears in the industry, and even though it's a lot quicker than it used to be, some casinos are deliberately dragging their feet.
If you don't want to wait for your money, consider using an e-wallet. You will find that they get processed the fastest out of all the payment methods and they are usually the best way to get your money in and out in the quickest time. That being said, a lot of e-wallet deposits are not eligible for welcome bonuses and promotions, so make sure you check the terms and conditions if you are looking to claim one of these.
Finally, we need to mention the limits on both deposits and withdrawals; some casinos will cap these with certain methods. Minimum withdrawal amounts are a common theme for most, often starting from about £5 a pop, but they can be as much as £50 for a minimum withdrawal, usually for cheques and bank transfer as these are manual payments.
Responsible Gambling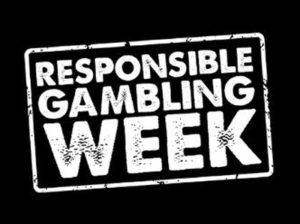 Responsible gambling is a hot topic right now and casinos are under increasing pressure to make sure that they are doing all they can to not just help people that need it, but also to prevent those that shouldn't be subjected to gambling getting access in the first place.
One of the newest implementations is the Know Your Customer (KYC) initiative set up by the UK Gambling Commission, but used by many regulatory bodies. This basically means that casinos need more info from players at the point of signing up to make sure that they are who they say they are and haven't been banned or self-excluded elsewhere.
However, there is no set process for this which means it's implemented differently – and more successfully – at some casinos. For example, some are asking for documents like proof of address, photo ID, and banking info when a new account is registered, and these documents need to be in place before the account gets accepted. All casinos need to get this info at some point, but others might take up to 48 hours to gather it and some might not take it until you withdraw, so bear this in mind.
Self-exclusion is something else to consider. Players can self-exclude themselves from certain sites to stop them playing if they think they have a problem. Casinos might adjust the severity of the exclusion for their players, with some allowing them to take a break for a few weeks and others offering a lifetime ban from said casino.
Deposit limits can also be set to help players gamble responsibly. This pre-agrees the amount of money that you can deposit or lose per day/week/month and the site won't allow you to go over this. This is great for people with limited self-discipline but also a strict budget.
Casino Groups
Many casinos are in fact part of larger groups. What you will find is that the casino is owned by a larger organisation as part of a group of other casinos that they might own. For example, a company such as Fortune Lounge has several casinos under their wing, including Aladdin's Gold Casino, Lucky Red Casino and their most recent, High Noon Casino.
It might seem odd to run lots of casinos instead of focussing on one big one, but they do this because they can cover specific niches with each casino. So, one might be totally dedicated to slots, the other might have a mix of slots and table games, some could include certain software developers and so on. It allows them to spread their bets, so to speak, and if something should happen to one brand, they've still plenty of others to fall back on and keep the business afloat.
Most people will never know that their casino is part of a group, and it doesn't really matter from a player perspective. The only issues that may arise are when it comes to bonuses. Some state that you can only claim one bonus from within the group, rather than from each casino. This means that if you've claimed a bonus at one casino, then you won't be eligible to claim from another within the same group.
It's also worth pointing out that should you self-exclude from one of the groups casinos, you may have excluded yourself from all of the group's casinos. This works on a case by case basis, but it's pretty common practice.
Here is a list of some of the bigger groups and the number of casinos that currently operate under them:
Casino Rewards – 13
Club World Casino – 6
C-Planet Casino – 3
Casino Coins Group – 6
Rockbet Casino Group – 3
Fortune Lounge – 4
As you can see, the range of casinos per group can be quite large. It's a common theme though and it's one of the main reasons why there are so many casinos open at the minute. In years gone by it would have been very tough to find out if your casino was owned by a parent company, but these days it's much more transparent and can be found with a quick Google search.