The online slots industry has skyrocketed over the last decade. It's a sector that includes thousands of games from dozens of game developers and the technology available has allowed these companies to take them to the next level.
Even though they are massively popular, the majority of players aren't aware of how they work. Whilst this is not essential for playing the games, it's important to have a general understanding as it means that you get a better idea of how they might pay out.
Compensated games are less common these days, but they are still a basic platform for your traditional fruit machines that can still be found in bars and pubs. They work differently to that of the online sector and we're going to use this article to try and break down the difference and see if one is better than the other.
General overview
There are some similarities in how both compensated and random slots work, and we need to address those first.
Each of the games will include what is known as a Return to Player (RTP) percentage. This is the amount, on average, that the machine will pay out per spin. The numbers are represented as a percentage, so a 90% RTP would mean that for every £1 staked the machine would pay out 90p to the player and bank the remaining 10p.
What lots of people fail to understand is that these RTP rates are set over a huge sample of spins, often tens, if not hundreds of thousands of them. For a player to see the true reading from the RTP they would need to play a staggering amount, which is why generally, players are seeing variance from the machine as to whether they win or lose.
Taking this into consideration, it's highly plausible that a player could win more money and more frequently on a 50% RTP slot than a 99% RTP slot over a small sample of say, 50 spins. The sample size here would not be large enough to get a true reading from the RTP, which doesn't make it useless, but does need to be taken into consideration when choosing which game you want to play.
These are the basics of all slot machines. Let's take a look at how each individual type will work
How compensated slots work
The easiest way to think of compensated slots is to assume that they have a memory. The game will know how often it's paid out and also knows if it needs to pay out soon to meet its RTP percentage.
For example, let's say that you have a compensated slot that has an RTP of 90%. This means that if you wagered £100, it should, on average pay out £90.
We can strip this back even further and assume that it has 1 winning combination in every 10 total combinations, meaning that there are 9 losing combinations in every 10. The machine is set up to pay out a 1 in 10 ratio. If you made three spins and they all lost, then these losing combinations would be removed from the 10 overall, so at this point you would be left with the 1 winning combination that has not been hit and just 6 losing combinations.
As you can see, we've now gone from a 10% chance of winning to a 14.23% percentage chance of winning. The more losing spins that you have in a row, the more the game will want to pay out to try and compensate for the low RTP that it's currently running at.
This is why with these games you often see people hovering and watching people put money in and fail to win. If this happens, the players are looking to dive in to try and take advantage of their losing streak and win big after just a few spins. We've all seen in TV programs where you've a sweet old lady in a Vegas casino waiting to jump onto people's games when they leave, and this is the reason they do it.
How random slots work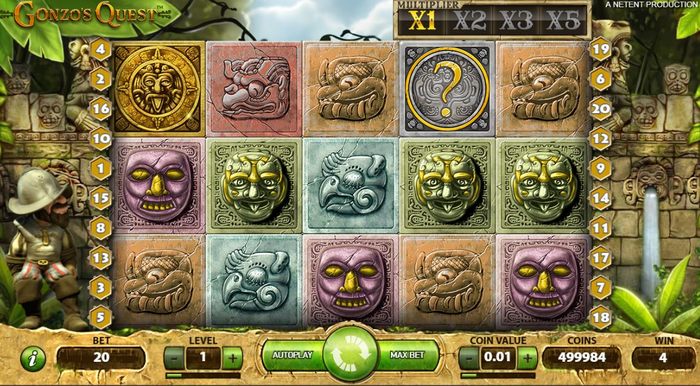 Random slots are how the online sector works, for the most part at least. This method is used for pretty much all online video slots these days and as the name would suggest, is totally random.
Just like a compensated slot, the game will be set up to offer a number of winning and losing combinations. If we stick with the 90% RTP as above, this would be 1 winning combination and 9 losing combinations.
Random slots come with a Random Number Generator (RNG) coded into each game, which is the biggest difference between these and compensated slots. The RNG has no memory, which means that any combination could come out at any time.
For example, if we had combinations 1 through to 10 and the winning combination was behind number 1, then if that was pulled the player would win. In the random slot that card would then go straight back into the set and the next spin would have the same chance of winning as the previous spin, so each spin is individual and not relative to the last.
Random slots are just that, totally random. The lack of memory often means that they can throw up some weird results such as jackpots winning in consecutive hands or even a streak of months with no jackpot win at all. This is why progressive jackpots often rise so high as they can go long periods with no win and just keep building.
Can you find compensated slots online?
The way that online slots work means that they have to be classified, at least in the UK, by the UK Gambling Commission. They are ranked as A, B1, B2, B3, B3A, B4, C, D and SWP. Each have a slightly different letter of law behind them and each are applied to certain game types.
Compensated machines are generally classed as B3 or B4, which means that they have a limit on the maximum stake (£2) and a limit on the maximum win (£500). They are also only legal to use on licensed premises, which include pubs, members clubs, and high street bookmakers.
The nature of these games means that they would not be able to get an online license, so compensated slots aren't available online.
Which are the better games to play?
This is a really tough one to answer and there are pros and cons for each.
The random games allow players to head into each spin with a clear mind about their chances of winning. Each spin has just the same chance as the last and there is no way that this can change. Players can use RTP to their advantage to hunt out the highest paying games and the average RTP is also considerably higher here than with compensated games.
The compensated games often have a really poor RTP. In fact, they can be as low as 70% and before online slots this was considered to be fairly standard. They have improved somewhat over the years, but they still aren't anywhere near as high an RTP as the online games.
The upside for compensated games is that you can watch people go on a losing streak and then take advantage of this by following them on that machine. You know that the more money the game eats up, the sooner it's going to be to be paying out. There's some strategy involved here to recognise when it will pay out, although you could argue that this taking advantage of other people's misfortune here, so you have to decide how you feel about that.
The fact is that the whilst the games are similar in playing style, they work very differently. If we had to choose we would take the higher RTP of the random slots over the compensated games. We'd guess that this is a pretty common decision as well given how many games are now random and how few are still compensated.