Video poker is possibly the most retro casino game that exists. The games look as if they were designed in the eighties and to be honest, they have changed very little since the early days of online casino.
Despite this, video poker is still a hugely popular game in brick and mortar casinos and they still churn out the machines by the truckload. The transition to online probably hasn't been as seamless as it might have been, but it's a popular enough game for many software companies to create their own little twist on things.
It's very simple to play, and as long as you have some basic knowledge of poker hand rankings and what's needed to create those hands, then it's likely it'll only take just a few minutes of playing before you know how these games tick.
Before diving into writing this article we first needed to make sure that you're aware that there are lots of variations of this game. The basics of each are all the same, but they will all differ slightly in the rules or the cards that are drawn.
It's going to be best to write this guide based on playing Jacks or Better, which is probably the most popular form of video poker. There is no 'standard' game, but this one is going to not only be the one that most of you will be playing, but also the most relatable when exploring other versions of video poker as well.
It's worth noting that we have got a full article that explains all the formats of the game, which you can jump across to first if you wish.
Why is the Game so Popular?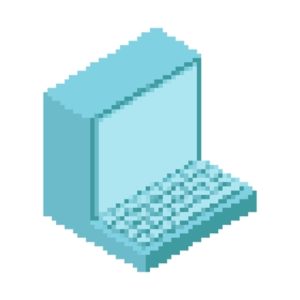 To look at a video poker game interface you would think that you were playing a game on your Commodore 64. The graphics are truly awful and even updated versions that have gone through 'modernisation' still look terrible.
But this all adds to charm of the game, and we think it's why so many people keep firing them up. It's also one of the only games in the casino that relates to poker and poker hand rankings. Of course, we all know how popular the likes of Texas Hold'em and Omaha are, well video poker is the casino equivalent of them.
It's a game that many people have grown up on. It's fast, easy to understand, involves some skill and strategy, and is seen as a really social game when played in the casino. Obviously, you don't get the social interaction online (unless you find a live dealer game), but you get everything else, which a lot of games simply don't have.
Hand Rankings
The first thing that you need to be aware of are the hand rankings. Your hand ranking is the strength of your hand, and the stronger the hand, the more money that you will win.
Hand rankings are as follows (best to worst):
Royal flush – T, J, Q, K, A all of the same suit
Straight flush – suited running cards
4 of a kind – 4 cards of the same numerical value
Full house – 2 cards of the same numerical value + 3 cards of the same numerical value. E.G. 3,3,4,4,4
Flush – 5 cards all of the same suit, any value
Straight – 5 cards running in order of numerical value. E.G. 5,6,7,8,9
3 of a kind – 3 cards of the same numerical value, any suit
Two pair – Two pairs together. E.G. 5,5,6,6
One pair – Two cards of same numerical value. E.G. J,J
The hand rankings are super important as they will affect the decisions you make, and therefore how much money you win or lose. The game will not automatically pick out your potentially winning hands either, you need to input this. More on this later.
Table Overview
The first step is to get familiar with the table overview and what you are looking at. Below you will see a typical example of how the game might look.
As you can see, the layout is pretty basic and it's going to be easy to understand.
But, let's work through each section: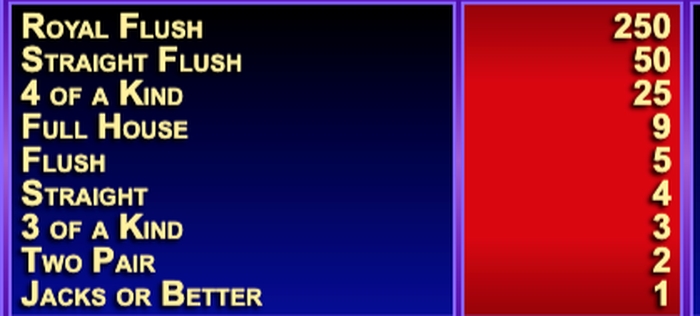 The top left section shows you the hand rankings for that game. Next to this, you will see the payout for each unit staked should that hand come up. For example, if you hit a Royal Flush, you would get 250 coins for every 1 coin that you wagered. If you got a straight you would get 4 coins for every 1 coin staked, and so on.
It's important to notice what the lowest pay out combination is in each version of video poker. For jacks or better, you will see that you need a pair of jacks or higher to get a win, so a pair of tens or lower would not count as win in this game. Different games will have different rules and in turn, the lowest ranking hand will change for each.
Make sure you know what this is prior to starting as it can have a huge effect on any potential winnings; the higher the ranking, the harder to make the hand. For example, if you could get a pay out on any pair, then you would have a much better chance of winning than playing a game that might need you to get two pair for the same payout.

The middle part of the board is where the cards are dealt. The games will include a standard 52 deck of cards which will be 'virtually' shuffled before every hand, and no cards will be added or removed for future games. It's a single deck and it's really quite simple.
One thing that we will point out is that given the poor graphics for these games, it can sometimes be tough to distinguish between the two reds in hearts and diamonds and the two blacks in clubs and spades. Just make sure that you take the time to note which is which for each hand as you will be surprised at how often you can get caught out, especially if you are new to the game.
The bottom section of the board is where you place your bets. You can select max bet which will bump it up to the maximum bet per hand for that table. This number will range for a lot of games, but video poker generally doesn't allow too high stakes. This game in particular goes up to just 5 coins, so it's not exactly one for high rollers.
The menu button left of that will allow you to see things like sounds toggle, return to lobby, help and rules for that game. We always advise checking the table rules before you sit, even if you've played this game type before. It's not uncommon for two casinos to offer a game like Jacks or Better with slightly different rules.
To the righthand side you have the bet amount in coins; this is the price per 'spin' as it were. Next to that you can choose the denomination of each coin as well. 5 coins at £0.25 per coin = £1.25 per hand/spin.
The middle button is the business button, and this is where you click to deal and draw. The number in the middle highlights how much each go is going to cost.
How to Play Video Poker – Step by Step
Step 1 – Check the Rules
The first thing that you need to do is check the rules for the game that you are going to play. If you've skipped the above text to get to here then we've already spoken about how the rules can differ from each casino, even though the name of the game is the same.
The rule section will also show you the RTP (Return To Player) of the game as well, which can be very useful.
Step 2 – Choose your Stake
The next step is choosing the amount that you want to stake.

This can be done by clicking the arrows on the 'bet per' button and then scrolling to your desired amount.
As stated above, you will see how much each go will cost in the deal button.
For our example we are just going to hit the Max Bet button, which is 5 coins on the game that we are playing.
Step 3 – Deal!
The next step is to click the 'deal' button to get the game started. Once you do this you will be presented with 5 new cards. You need to see if you are close to making any of the paid ranking hands that we have seen from the top of the video poker game.
The game then allows us to hold up to 5 cards from the pack. If you have hit an amazing hand here then it might be worth just holding all of the cards and taking the win. If you need help, hold the cards that you want to keep.
In the example below you can see that we have decided to hold the pair of 5's that we have in the hope that we hit another 5 to make 3 of a kind or maybe some 2 pair/full house combination.
Step 4 – Draw!
Once you are happy with the selected cards, you then hit the draw button. The two cards that you have held will remain and the other three cards will be replaced by three new cards.
This creates your final hand and the game will state if you have won or not. In our example below, you can see that we improved our pair of 5's and got two more Jacks to create a two pair win. This highlights in the box that we get 10 coins returned for our 5-coin stake. It's worth noting that the coins you get back are the profit on the hand.
And that is pretty much how this game works. It's really simple once you get going and you can actually apply some skill when you start being able to work out the likelihood of hitting specific cards in the deck that will improve your hand.
Some starting combinations, just like with real poker, are better than others and offer a higher RTP. We've completed a full article on the strategy of playing video poker that you should really be checking out if you are looking to make some money from the game. Honestly, applying a bit of strategy to this game makes it even more rewarding.
The Benefits of Video Poker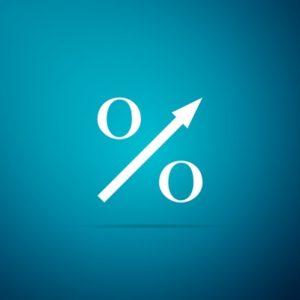 Video poker is the least flashy game in the online casino. It's back to basics and as bare bones as you can get. To be honest, it doesn't look like it should have a place in the 21st century, but it does, and it's still thriving.
Savvy bettors are attracted because the games can have a really high RTP. In fact, they are some of the highest that you can get from any online casino game – there are some variations where you can have an edge over the casino with the perfect strategy. How crazy is that?
The fact that you can apply genuine strategy in the first place is another reason why people like it. It's like blackjack in a lot of ways, in that you can play the perfect strategy to give you the maximum edge over the casino in any given situation. Some video poker games are easier to master than others, which is represented by the RTP, but most will reward a decent strategy a lot of the time.
Final Advice
We aren't doing strategy in this post, so check out our article on video poker strategy for that, but in case you miss it, always play games for the maximum amount of coins where you can afford to.

The amount that you play for can drastically affect the RTP of the game.
You may have missed it from our example above, but as you can see, if you play for anything less than the maximum 5 coins, you are playing for a considerably lower RTP. This rings true for almost all video poker games.