The game of blackjack has evolved a lot over the years and the boom of online casinos has allowed games to be altered extremely easily. Side games have probably been the biggest benefactor of this boom, and whilst they aren't the most user-friendly games, they are some of the most popular.
A side bet is where you place a bet on a certain outcome or combination of cards that has nothing to do with the rules of the game. It's just another thing to bet on whilst the games are taking place and a way to spice up the action.
As stated, they aren't all that user friendly and they actually offer some pretty high house edges, but they're fun to play and we've created a list of the games that you can typically find along with their RTP (Return to Player) percentage.
There will usually be a section on the table you can click in order to add money to each side game. It will work the same as adding chips for a regular game: you can just highlight the box and then set the amount that you want to wager. It may vary from casino to casino, but that's a pretty common setup for most.
| Side Bet | House edge range |
| --- | --- |
| 21 + 3 | 2.58% to 13% |
| Royal Match | 3.49% to 7.48% |
| Over/under | 6.5% to 10% |
| Super Sevens | 10.29% to 16.97% |
| Lucky Ladies | 17.64% |
| Insurance | From 3% |
*House edge range dependant on decks in play.
21 + 3
21+3 is probably the most popular of all the blackjack side games, so you're going to see it most often when playing both online and in brick and mortar casinos.
The side game is pretty simple and takes into account three cards; the 2 cards dealt to the player and the one card face up for the dealer. The aim of the game is to make the highest ranked hand possible from these three cards. The combination of hands are as follows:
Suited trips = 100:1
Straight flush = 40:1
Three of a kind = 30:1
Straight = 10:1
Flush = 5:1
As you can see, the house edge will range for this game and the range is based on the number of decks that are used. Online it's pretty common for casinos to use 7 decks for a regular game of blackjack, this means that the house edge for 21 + 3 would sit at 6.29%. Interestingly, if the number of decks were to lower to 4, then this would see the house edge increase up to 8.78%.
It's also worth noting that some casinos will pay out different combinations to the ones that we have used above. Pair + flush and the removal of the suited trips bet are two combinations that are not always involved. Bear in mind that adding or removing combinations will have an affect on the house edge.
Royal Match
The Royal match side bet is one of the oldest, and probably best known for its simplicity, although none of the side bets in this article are too taxing.
The game requires the player to bet on the face cards they are dealt. If they are suited then you get paid, but the higher the rank of the card (royal) the more money you get. The combinations and pay outs are as follows:
Suited king and queen – 25:1
Suited blackjack – 5:1
Any two suited – 5:2
In terms of house edge, you are looking at a spread of between 3.49% and 7.84%. The range will depend on the number of decks that are used for the game; the greater the number of decks, the lower the house edge. That means that this side game is best played on blackjack games with 8 or more decks.
| DECKS | HOUSE EDGE |
| --- | --- |
| 1 | 7.84% |
| 2 | 5.34% |
| 3 | 4.52% |
| 4 | 4.11% |
| 5 | 3.86% |
| 6 | 3.70% |
| 7 | 3.58% |
| 8 | 3.49% |
It's also worth noting that the house edge will change again if the combination of cards and the payouts change. Some variations of this game include a player and dealer royal match, meaning that they have the same suited king and queen combination. There are even games that have a progressive jackpot for this, called the "Crown Treasure".
Over/Under 13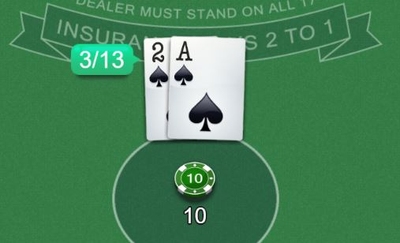 Another popular bet is that of over/under 13. As you might have guessed, all you need to do is guess if your two face cards are going to be over or under 13. It's an even money bet and you can choose either option.
The game comes with a pretty brutal house edge though. For a start, if the total is 13 then the house wins. The house edge for the under bet is 10% and the edge for the over bet is 6.5%. These figures are based on games with 8 decks.
It's a bit of a con to be honest as it seems to be a pretty simple game, so many people play it thinking it's favourable. The reality is that the house holds a huge edge in almost all variants.
However, there are strategies that help you make an informed decision of whether to choose over or under. Arnold Snyder and Stanford Wong developed a counting game for this side bet and wrote a book about it, and even though it's tough to master, it shows that you can at least reduce that edge by having a better idea of what cards are left in the pack.
Super Sevens
Super Sevens is one of the oldest blackjack side bets, but again, it's mainly popular due to its simplicity. The game is all about being dealt a number 7 and the more often you are, the more you will win.
Payments start from the first time that you are dealt a 7. If you are dealt another 7 then the game starts to get very interesting. If you are able to draw a third 7 then the numbers become huge. The payouts for this game are as follows:
7 = 3:1
77 = 50:1
77 Suited = 100:1
777 = 500:1
777 Suited = 5000:1
As you can see, the more sevens that you get the higher the payout. The only downside to this game is that you are usually limited to a bet of just £1 per go, so even if you hit the top prize, your winning potential is limited.
House edge will drift from 10.29% up to 16.97% based on the number of decks that are used in that game. Like the over/under game, if you are able to count cards then you will be able to know when best to bet on this side game.
Lucky ladies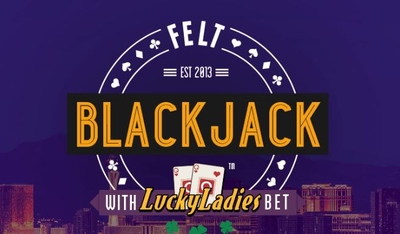 Lucky Ladies is a game that most of you will likely have heard of already, but if you're new to it, then let us enlighten you. The concept of the game is that a 20 point will win you something, but if you manage to get a certain type of 20 combination then you are set to win more than others.
As the name would suggest, the highest paying hand here is that of a pair of Queens. It's not just any old pair though, you're looking for the Queen of hearts, and two of them. Other payouts for this include:
Queen of hearts & Dealer has blackjack = 1000:1
Queen of hearts pair = 125:1
Matched 20 = 19:1
Suited 20 = 9:1
Unsuited 20 = 4:1
The house edge for the game is a bit of shocker though at 17.64%, so you need to be prepared for this before playing. It's a popular game despite the house edge and lots of online casinos now include it. There are variations playing with which hands qualify for which payouts, and as with other side games, the fewer decks of cards there are, the more that house edge is going to increase.
Insurance
The insurance bet is probably the biggest side bet in the online blackjack sector, and the majority of games from all networks are going to include this.
This is where the dealer is dealt either an Ace or a picture card and they check to see if they have blackjack or not.
If a player decides to take the insurance, then they will get paid at 2:1 if the dealer has blackjack. If they do not have blackjack, then they lose their side bet.
Insurance will start with a house edge as low as 3%, but as more decks are introduced this number really starts to skyrocket.