One of the reasons why slots are so popular is that they are very simple to play. They require next to no previous knowledge of the game and it only takes a few spins to get up and running, get a grip on how the game works, and the theme for that game.
As there are now literally thousands of slots that you can play at a multitude of casinos, one thing that you need to note is that no two slots are quite the same. In fact, whilst they appear to be very similar, games can actually play very differently.
The one thing that you need to do with each slot is to take some time to see what's on offer (bonus rounds, free spins, wilds, scatters etc.) and understand how each feature can affect the gameplay. The games will pay out regardless of whether you know what you are doing or not, but we can guarantee that your enjoyment levels will go through the roof if you know which symbols you need to land where for a big win.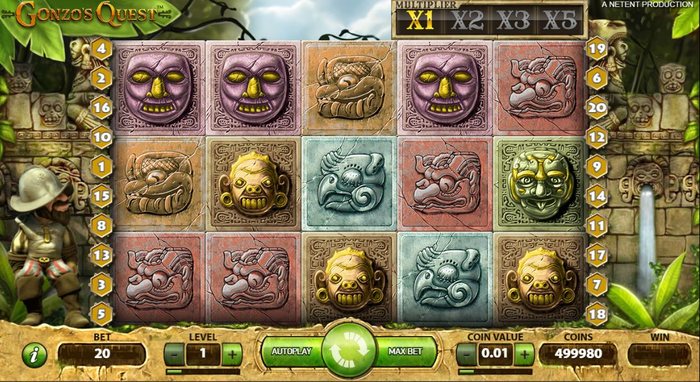 The easiest thing for us to do is to take you through a live example. For this we are going to use Gonzo's Quest, a game made by NetEnt and one of the most popular video slots on the market right now. As we stated, each game will differ slightly, but this should give you a pretty good idea of how things go down.
Numbers of Reels
Each slot comes with a set number of reels that run vertically down the screen. You will usually find that the game will have anywhere from 3 to 5 reels, although you can find them with more than this but they may function a little differently as a result.
On each reel you are going to find a number of symbols. These are the symbols that create your winning combinations. The number of symbols on each reel can vary as well, but typically you get anywhere from 3 to 5.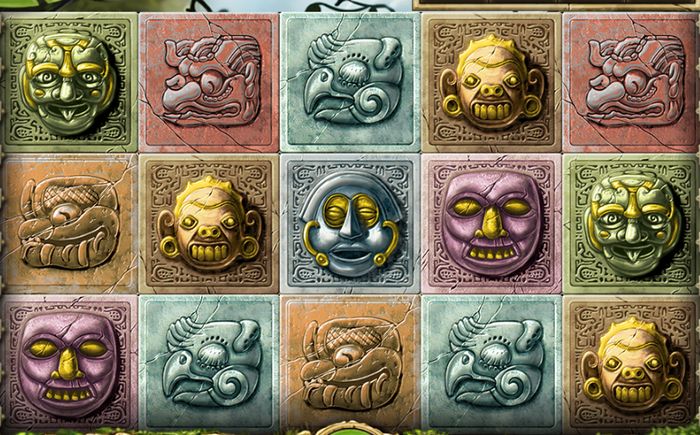 As you can see here from Gonzo's Quest, we have a game that includes 5 with 3 symbols on each reel. This would be referred as a 5×3 slot and is pretty much as typical as you are going to get. You will notice that each reel contains different looking symbols.
You may think that the more reels you have, the more symbols are included, the more you will win. This is not the case. You see, games are made up with a specific Return To Player (RTP) percentage in mind, so the number of reels or symbols won't change the amount you can win, but it might alter how the game works.
For example, games that include 7 reels might see you win more often due to the increased number of symbols on show, however, the strength of the combinations might be weak, so you don't win much money per win. So, smaller games might give you fewer wins, but those wins will be worth more.
Paylines
Next up we have the paylines. These are the combinations or patterns of symbols you need to make winning paylines. The more paylines that are on offer, the more ways that you can create winning combinations.
Paylines can range from 1 right up to 1023, and even more than that with some of the modern games that are starting to be released. Again, more paylines doesn't mean that you win more money with these games, but it does mean that you will likely win more often.

One of the best ways to find the number of paylines and how they are made up is by hitting the 'info' button that is included with every online slot. This will give you an image like the one above from Gonzo's Quest.
As we can see, the first three paylines are made up from the top, middle and bottom lines being full from left to right. Then they start to get a little bit more creative. Given this is a 20 payline game, you can imagine that as they rise with each game, they can start to get really creative.
One thing that is common with all paylines is that you will notice that they all have to run left to right and cover one symbol on each reel with no gaps. This is a trait that you will find with all games, unless the game has a pays both ways feature where it also pays right to left.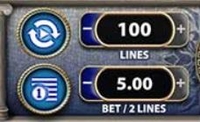 Many games also allow you to choose the number of active paylines per spin, there will be a control on the panel to adjust this.
So if you have 100 paylines on offer, you can opt to only play for 20 of them which means that your cost per spin would be reduced. You usually bet per line, so you can play games that have 20 paylines for one coin per payline making each spin cost 20 coins.
Symbols
The symbols on offer are going to be one of the biggest defining features for each game. These symbols appear randomly on the reels and they are based on the theme for the game.
Each symbol will be worth a different amount to the other and that is why some combinations along paylines are worth more than others. The rarer the symbol, the more they are usually worth.

Gonzo's Quest includes 7 standard symbols in total. As you can see, each has a different value and this value is the amount that you will win based on the number of symbols you get on each payline. For example, the one in the top left is the most lucrative and you would get 50x your stake for 3 symbols on one payline, 250x your stake for 4 symbols on a line, and 2500x your stake for the full payline. You can win on numerous paylines per spin as well.
Get to know these symbols with each game that you play as the more familiar you become with them the more fun the games become. Of course, the game will automatically shout if you have a winning combination and there will be plenty of times where you had no idea that you were about to win, but when you can see them fall, it makes it that bit more exciting.
Scatters
The scatter symbol is one of the most exciting symbols on any slot. These are generally your key to unlocking the free spins and bonus rounds that are on offer. These rounds are often highly lucrative, but they are also elusive. You will need to match up a number of scatters (usually 3 in any order for a 5-reel game) to trigger the bonus round.
These symbols are one of very few that operate outside of the paylines that we spoke about earlier in the article. So, if you needed to get three scatters to unlock the feature, then they could appear absolutely anywhere on the board and still count. They just need to show up.
They often override everything else as well. So, if you had a winning payline as well as the right number of scatters to trigger the feature round, then the scatters would take president for most games, although admittedly these crossovers are very rare.
Not all games include scatters. Ironically the game that we are using as an example, Gonzo's Quest, does not. The image below is from the Game of Thrones slot, and here you can see how they might typically work.
As you can see, scatters still carry monetary value as well in this game, which isn't always the case. For this example, you see that 2 scatters in any position awards a random cash prize, but you need 3, 4 or 5 to trigger the free spins section of the game, which is where you are going to make the most money.
Finally, the information tab is the best place to find out first, if the game has scatters, and second, what they do. From here you can also see if they've any cash rewards attached and then what happens if you land 5 scatters instead of 3, for instance. This can make the bonus round even more beneficial in some cases.
Wild Symbols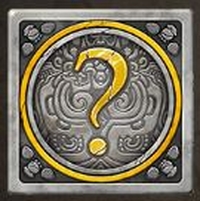 Wild symbols are sometimes confused for scatters and bonus symbols, but they are in fact very different things. The best way to look at a wild symbol is as the joker in the deck which can morph into any symbol that it wants to.
They are going to help you create winning paylines by subbing in for another symbol to create a winning payline where there wasn't one before. They can literally represent any of the core symbols in a game (not usually scatters, bonus symbols, free spins etc.) and improve your combinations to make you more money.
For example, let's say that we had 4 high paying symbols in a row of on Gonzo's Quest. This would pay out 250 coins for the 4 symbols. On the final reel, however, we have a Wild symbol. This can then substitute itself for our missing 5th symbol so we can create a bigger payline, giving us 5 symbols and paying out 2,500 coins instead.
Wilds can actually come in a range of different shapes and sizes. In fact, there are multiple combination and types of wilds, some more useful than others:
Stacked Wilds – These are wild symbols that sit on top of each other. It could be that you get just two that are stacked, or you could get the whole reel stacked. Obviously, as they can represents any symbol, having two or more can create a huge number of winning paylines and they are one of the best types of wilds as a result.
Shifting Wilds – These were first introduced by PlayTech but can now be found on a plethora of other software developers as well. They work by moving about the board to make the best combinations possible. They usually move from the 1st and the last reel and can offer a huge payout as a result.
Expanding Wilds – These beauties will expand to make the entire reel wild. They can create a huge number of paylines as a result.
Sticky Wilds – These wilds will hang around in the same spot for multiple spins. So once the sticky wild lands, you can spin again and get twice or three times the benefit from it. These become huge in free spins and bonus rounds.
Walking Wilds – These are similar to shifting wilds but will only move one reel left or right and up or down if needed. They are a little more limited than a shifting wild, but still offer great potential value.
That pretty much sums up how wilds work. As you can see, they come in all shapes or sizes and most games do have them. You just need to make sure that you are aware which type your game uses, as this can make a huge difference to the gameplay.
Free Spins
Free spins are another massively lucrative element of online slots. As the name would suggest, this is where the games give you spins that you don't have to pay for and you get to bag any winnings from these spins. You don't get much for free in gambling so they are very welcome.
To access them, you usually need to either match up a certain number of scatters or the game may have a dedicated free spins symbol instead. If you go take a look as the Game of Thrones game above, you will see that the scatter did in fact activate the free spins round for the game.
Within free spins rounds you are going to be able to rack up significantly larger sums of money than in the base game. Remember, you invest nothing extra for these rounds, so once you are in, everything you win comes for free.
Like so many of these features, not all games will have free spins rounds and those that do will differ greatly in how lucrative they might be. Whilst many features are very much down to personal preference, we would suggest that you actively seek out games with free spins rounds.
Bonus Features
Bonus rounds and bonus features can come in all shapes and sizes. As the games are now progressing at an alarming rate in terms of interactions, the bonus rounds are often the part where the developers are able to get really creative.
The human input here is still fairly minimal, but most cut away from the standard reels that are on offer to provide a more diverse side of the slot.
On Gonzo's Quest, their 'bonus feature' is that of an avalanche, where the winning symbols are removed and then are replaced with new symbols to create new paylines. With it you get a series of multipliers for every avalanche that you trigger, which means that each new win pays more than the last until the winning streak ends.
Other games, like Game of Thrones, might class free spins as their bonus feature and some might even include wilds as theirs, although these are generally both features that you want to have as well as a feature or bonus round. Other popular offerings include 'pick a win' where you choose from a number of symbols and get the prize underneath, 'wheel of fortune' where you spin a wheel and get whatever prize it lands on, and an 'accumulator bonus' where you collect prizes and items that combine to make one big prize.
The bonus feature rounds are where you are likely going to make the most money from your online slot. They aren't included in all slots, but they are the main event where they are included. Whilst they are often hard to access, it's highly likely that you're going to make a nice return on your investment once activated.
Final Thoughts
As you can see, online slots are pretty simple to play even if you are totally new, after a few spins of any game you will have the basics tied down.
The main issue is that you are able to choose from so many games and each of them plays differently, so you are always learning the minor differences.
Everything from the theme to how often the game pays out can be customised by the developer, with literally hundreds of variables. This is one of the main reasons why there is so much choice in the industry right now, but we definitely think that this is a good thing.