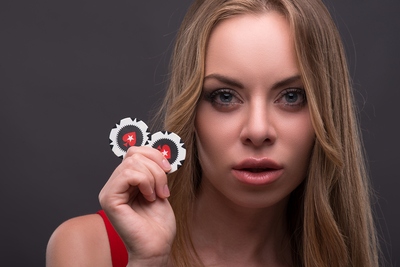 Doubling is one of the most exciting moves in blackjack. It's the only time that you are able add money into the pot after the hand has started. It's a rare chance to go after making more money than your original bet allows and increases the amount you can take away from a single game.
Whilst the money on the line is higher, it's also worth noting that this is one of the most commonly misplayed moves in the game as well. People often look to put extra money into hands that are strong, but you're actually looking to double down on hands that have potential, which is very different.
There are going to be certain times where doubling down works better depending on the type of blackjack you are playing. As we preach with all of our blackjack strategy articles, the first thing to note is the table rules. A lot of casinos function slightly differently, and you might even find that tables within the same casino have slightly different rules.
If used properly, doubling can be the difference between a winning session and a losing one. It's a skill to master, and we're going to show you in this article how to time it just right.
How does doubling work?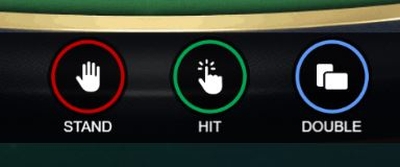 After you've been given your cards and assuming you've not hit blackjack (instant win payout) you will have the option to double down. This means that you are able to buy the next card from the dealer.
The card will cost you the same as your original bet. So, if you've bet £20 for your original stake, then it will cost you a further £20 to get the next card.
You need to be aware that when you double down, you only get 1 more card and that is it, you can't hit. You put your chips in, get your card, and that is your final hand.
Why not just hit for free?
The idea here is that you double down at times when you are strong and the dealer is weak. You're getting to a point where you want to get as much money in the pot as possible as you're a big favourite to win the hand.
You can just hit for free and take another card, but by doing this you limit the amount of money that you can win. By doubling down at times of strength you are getting as much money in as possible against the dealer.
People often ask why you don't just double your stake at the start of the hand. The reason is that we can see if we are strong or weak versus the dealer first and make an educated decision rather than a guess, this is why we want to get money in at this point, but it's also the reason why the casino only allows you to fire one barrel at the game before shutting you out.
The fact is that even though you may not get a favourable card, the dealer is in a situation where there's an increased chance they may bust anyway. This means that even though you might have a low-ish total, you could well win the hand just by being in it.
Doubling Cheat Sheet
| Hand | Dealers Upcard | Double? |
| --- | --- | --- |
| Hard 12 or more | Any | Don't Double |
| 11 | Any | Double |
| 10 | Any except Ace | Double |
| 10 | Ace | Don't Double |
| Hard 9 | 3, 4, 5, 6 | Double |
| Hard 9 | 2 or 7 or more | Don't Double |
| Hard 8 and below | Any | Don't Double |
| Soft 9 (A/8) | 6 | Double |
| Soft 9 (A/8) | Anything other than 6 | Don't Double |
| Soft 8 (A/7) | 2, 3, 4, 5, 6 | Double |
| Soft 8 (A/7) | 7 or more | Don't Double |
| Soft 7 (A/6) | 3, 4, 5, 6 | Double |
| Soft 7 (A/6) | 2 or 7 or more | Don't Double |
| Soft 6 (A/5) | 4, 5, 6 | Double |
| Soft 6 (A/5) | 2, 3 or 7 or more | Don't Double |
| Soft 5 (A/4) | 4, 5, 6 | Double |
| Soft 5 (A/4) | 2, 3 or 7 or more | Don't Double |
| Soft 4 (A/3) | 5 or 6 | Double |
| Soft 4 (A/3) | 2, 3, 4 or 7 or more | Don't Double |
| Soft 3 (A/2) | 5 or 6 | Double |
| Soft 3 (A/2) | 2, 3, 4 or 7 or more | Don't Double |
| Soft 2 (A/A) | Any | Don't Double |
Magic numbers: 10 and 11
There are two magic numbers that you need to be aware of for doubling, and these are 10 and 11. We mean the accumulative total of your hand here, so this might include combinations such as 7-3, 8-2, 7-4, 6-5, 9-2 and so on.
These numbers are the 'sweet spot' as they allow us to get a single card that is going to get us a great chance of winning the hand. For example, if we have a 10 combination then anything over a 7 is going to be a good outcome. Obviously, with an 11 we would drop this number to 6.
The key thing to note here is that we are taking positions of strength and then getting as much money on the table as possible. With 11 and 10 combinations, we aren't even all that concerned about what the dealer has at this stage. Even pulling a low card to make a relatively low overall combination will still mean that the situation to buy the card is the best mathematical play given that when we do pull bigger numbers, the rewards are that much greater.
There are two exceptions to this rule however, and this is when the dealer is showing a 10 or an Ace and we are holding a 10 combination. When this happens, we are likely going to have to beat the dealer and possibly by pulling two or more cards. In this instance, we need to hit and not double down.
Nine, some of the time
Hard 9 is another combination that we need to be aware of for doubling down.
There are 4 instances where we can double down with a 9, which include the dealer holding 3, 4, 5 or 6. All other combinations we should be looking to hit.
The reason behind this is that we still have an edge with 9 against this set of numbers as they are more likely to go bust than to create a hand that beats us.
The 2 is the only lower end card that we would hit on, and this is because there is a good chance they are pulling 3 or more cards here and still have a strong hand.
Soft numbers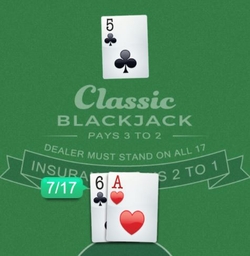 As we move into 'soft' numbers, we start to need to get a little more creative in terms of when and what we can use to double with. Again, the key here is noting what cards the dealer has as we are now starting to tackle the fact that they might have weak starting hands.
How strong our hand is will be key to deciding what our play needs to be.
The first place to start is with A/8 hand. There's only one dealer card that would make us choose to double down with this hand and that's when the up card is a 6. In all other instances we should be looking to stand. With A/7 we would be doubling down on all dealer cards from 2 through 6 and then A/6 from 3 through to 6.
A/5 and A/4 are 4 through 6 and then A/3 and A/2 are 5 and 6 with the dealer. You will notice that the cut off with dealer's cards is 6 or lower with each variant. This is because in most blackjack games, the dealer will have to draw to a 16, so if a 10-value card comes, they will need to hit again and have a good chance of going bust.
How important is doubling down?
It's one of the most important factors of any blackjack strategy. You need to combine this with splitting, but by using them both together (and correctly) you will be able to win a lot more money over a longer period of time.
It's widely believed that people who don't use one or either of these strategies aren't going to make any real money as both strategies allow you to decrease the casino's edge massively. You've likely heard that blackjack can be one of the lowest edge games going, and this is true providing you utilise a perfect strategy like the one we've spoken about above. If you don't, you take that small house edge and make it a huge house edge.
It's like any casino game; if they have included a bet type or play such as doubling down, then it's likely for a reason and usually it's to do with the house edge for that game. It's not hard to work out when best to double down, but you need to make sure that you apply the correct strategy to each hand, and if you do you will increase your chances of making money from blackjack.
Can you double down after hitting?
This is a really common question and the answer is no. Once you have hit, you cannot then double down on your hand and buy a card.
Make sure your account is topped up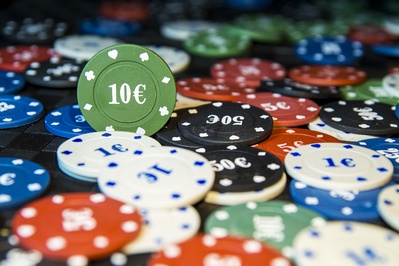 You need to make sure that you have enough chips at the table before the start of the hand to allow you to double down when needed.
It needs to be more than just 2x your bet stake as well, this is because you are able to double down on hands that have been split with most blackjack games, meaning that you could need 3 or even 4 times your initial stake.
You basically need enough in the bank to allow you the freedom to make the bets you need to make when the time comes.